Catering for all preferences
Codemasters knows when to hit the throttle and when to apply the breaks: immersion is entirely scalable. Comfortable with the track? No problem, skip to qualification. Posted an excellent time? Fast forward to see if anyone's close. Got the stamina for the full race? Choose all 70 laps. Prefer to keep it short and sweet? Opt for 20 per cent, or 14 laps.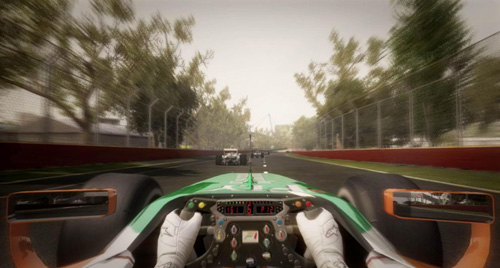 Coming up behind with a cockpit
There's also a range of difficulty levels catering for all preferences, and a wide variety of online modes, such as party time-trials, or the heavily customisable Grand Prix for up to 12 players.
F1 2010 is not perfect. A few minor flaws add to those inherent to Formula One. In-car instructions given by your pit boss have limited variation, and begin to grate after a while. There's also no live data from real-world F1 races – as in EA's sporting titles. And, perhaps most disappointingly, on easier settings, Career Mode places you in a competitive car, whereas earning one by working up through the teams would offer a more satisfying challenge.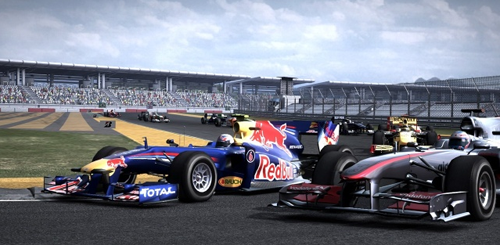 F1 tracks, more bends than Uri Geller
Verdict
These minor failings should come as no surprise, given that F1 2010 is the first game in what will likely be a new franchise, with annual improvements expected as in the EA Sports titles. And it will come as no surprise that this first game is such a success, given Codemasters' pedigree in other racing formats.
It's unlikely that F1 2010 will win over the majority of racing buffs, given the format's idiosyncrasies. But for true F1 fans, and a few converts won over by this most assured of starts, the future looks equally as bright for Codemasters' latest driving franchise as it does for the actual sport itself. ®
More Games Reviews

Dead Rising
2
RUSE
Halo:
Reach
Tom Clancy's
Hawx 2

F1 2010
An assured and comprehensive racer whose minor flaws are easily forgotten at 220mph. Available on Xbox 360 (tested), PS3 and PC.
COMMENTS
Bold claim...
"What greater tribute, then, to the reinvigorated sport than Codemaster's F1 2010, arguably the greatest Formula One videogame of all time."
Is anyone here old enough to remember Geoff Crammond's Formula One Grand Prix? I've genuinly yet to play an F1 game as engaging as that.
And Revs...
I even remember Geoff Crammond's Revs for the BBC. I'm still amazed of the perception of the Snetterton Bomb Hole corner - it really felt like the steering went light on the exit. All that with only keyboard entry and low resolution display!
[I refuse to work out just how many years ago that was - just way too scary!]
GP Legends
GP Legends by Papyrus I think beats all these, still have it on my PC. Also, tucked away in the loft is my Amiga 1200 with Geoff Crammond's original GP.
I was considering this title either for the PC or PS3 but with all the negative comments I think I will leave it until it's in the budget bin.
Only just got the PS3, how does anyone play racing games with the default controller and what's the point of the motion sensors in the sixaxis controllers if no game uses them!
I second that
The Microprose saga was the greatest, YES.
And Stunt Car Racer another very enjoyable game by Crammond.
title or die
I remember it well and agree.. Nothing comes close.