F1 2010
Get your engines revving
Review Reverse is a gear not often associated with Formula One, a sport entirely focused on hurtling forwards at breakneck speeds of up to 220mph. But it's one the sport had to engage in recent seasons to reverse a seemingly inexorable decline in popularity.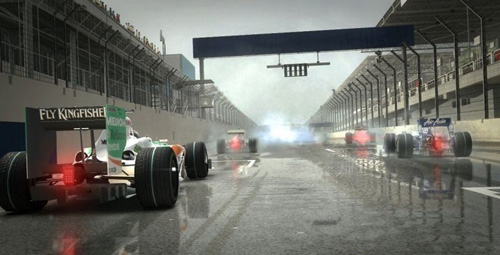 Going off grid - the revolutions begin
Several factors combined to lift F1 out of its decade-long doldrums. First, The Schuminator retired. Then, in 2009, the sport introduced its most wide ranging and impactful rule changes since 1998. At the same, the credit crunch and threat of team budget caps significantly reduced the chasm between team finances.
What greater tribute, then, to the reinvigorated sport than Codemaster's F1 2010, arguably the greatest Formula One videogame of all time.
That it can't contest the title of greatest overall driving game is understandable. Despite the recent improvements, Formula One still suffers inherent limitations. Races remain largely processional, results almost always determined by pit stop strategies, car set-ups and mechanical failures rather than by driving ability. Although at their closest for many years, the disparity in team resources maintains a gulf between F1's elite and the rest of the field. And the limitations of a single car series can never compete against the wider range of car handling and garage car-porn of freer titles, such as Forza and Gran Turismo.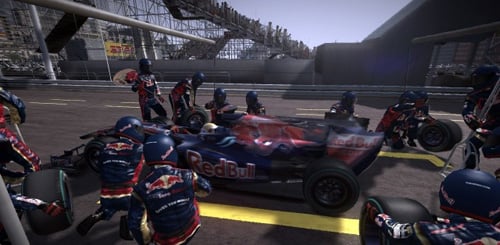 Leavin the pits quicker than Jennifer Aniston
These shortcomings are, of course, firmly outside of Codemasters' control. Rather than dwelling upon what F1 doesn't do, Codemasters has concentrated efforts to capture the essence of a sport in a way few other titles manage.
COMMENTS
Bold claim...
"What greater tribute, then, to the reinvigorated sport than Codemaster's F1 2010, arguably the greatest Formula One videogame of all time."
Is anyone here old enough to remember Geoff Crammond's Formula One Grand Prix? I've genuinly yet to play an F1 game as engaging as that.
And Revs...
I even remember Geoff Crammond's Revs for the BBC. I'm still amazed of the perception of the Snetterton Bomb Hole corner - it really felt like the steering went light on the exit. All that with only keyboard entry and low resolution display!
[I refuse to work out just how many years ago that was - just way too scary!]
GP Legends
GP Legends by Papyrus I think beats all these, still have it on my PC. Also, tucked away in the loft is my Amiga 1200 with Geoff Crammond's original GP.
I was considering this title either for the PC or PS3 but with all the negative comments I think I will leave it until it's in the budget bin.
Only just got the PS3, how does anyone play racing games with the default controller and what's the point of the motion sensors in the sixaxis controllers if no game uses them!
I second that
The Microprose saga was the greatest, YES.
And Stunt Car Racer another very enjoyable game by Crammond.
title or die
I remember it well and agree.. Nothing comes close.