ToryDems nearly swallow Labour blueprint of equality for all
Employers aghast at discrimination by association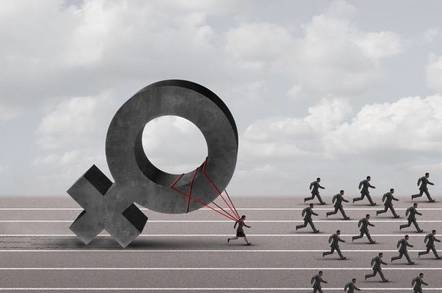 The former Labour government's Equality Act 2010 mainly came into force today, prompting howls of pain from employers' groups.
It's hard to imagine the ToryDems like the whole of the act, but they've decided to lump most of it. Indeed they shelved the original timetable for the act, keeping back key parts they disagree with. Civil servants have put the best possible spin on it, saying it tidies up a raft of disparate legislation, and will "deliver a simple, modern and accessible framework of discrimination law which protects individuals from unfair treatment and promotes a fair and more equal society".
The British Chamber of Commerce probably speaks for large parts of the business community when it raises "concerns about the amount of employment red tape to be implemented between 2010 and 2014" arguing that the government should be rolling back red tape to allow more jobs to be created. It claims the act will impose a one-off cost of £189.2m on business, with further legislation liked to cost firms £11.3bn between now and 2014.
New provisions include "associated" discrimination, so for example, people associated with or perceived to be associated with a protected characteristic, eg carers for a disabled relative, can claim protection under the act.
The "definition of gender reassignment" is changed, by removing the medical provision requirement.
Breastfeeding mothers get protection. Employers can be held responsible for third party harassment, eg of frontline staff by customers, and this is extended to all "protected characteristics".
"Secrecy clauses" are banned, to ensure discriminatory payscales cannot be hidden.
Employment tribunals will be able to make recommendations that affect the whole workforce of an organisation, not just the complainant.
The act also extends "protection in private clubs to sex, religion or belief, pregnancy and maternity, and gender reassignment," and allows "claims for direct gender pay discrimination where there is no actual comparator".
The government is still "considering" a range of other provisions, including "dual discrimination", diversity reporting by political parties, and positive action in recruitment and promotion.
David Frost, Director General of the British Chambers of Commerce said: "If private sector businesses are to offset job losses in the public sector, the significant costs of employing people must be reduced. As austerity measures start to bite, companies need the flexibility and freedom to boost employment and drive our economic recovery." ®
Sponsored: Minds Mastering Machines - Call for papers now open