Acer Aspire 5940G 15.6in notebook
Media takeout
Let Me Entertain You
Strangely though, even with its abilities predominantly planted in the entertainment division, the Radeon HD4650 seems to be somewhat anaemic in the 5940G. Benchmarks from FarCry 2 also confirmed the HD4650's lack of grunt, managing to average only 23fps on medium settings, without anti-aliasing, at the maximum screen resolution of 1366 x 768. On the high settings, only an average of only 16fps was achieved with significant frame-tearing.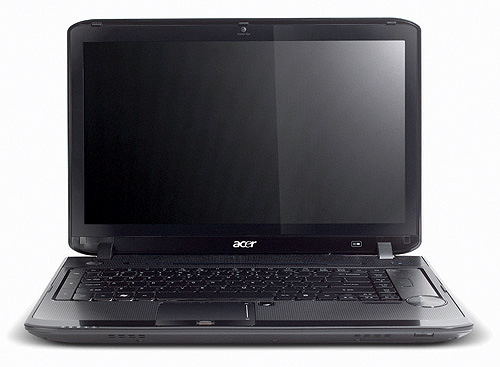 A bit on the large side considering the screen size
Graphics performance aside, the Aspire 5940G packs some nifty features. To the right of the keyboard is the media control touchpad that provides backlit controls for your media player of choice along with a rotating volume control. Also, as a bonus, the mouse touchpad has some basic multi-touch features such as pinch-to-zoom and the option of two finger scrolling even though there is a scrollbar on the side of the pad.
The multimedia functionality is further boosted by the largest subwoofer I have ever seen fitted to a laptop. Nicknamed TUBA, this is the major contributor to the larger than expected footprint. Still, it does deliver fairly impressive sound reproduction with its Dolby Home Theatre Virtual Surround Sound capability. Overall, the sound output from the 5940G puts most other laptops to shame, but is still no match for a decent pair of portable speakers.
Verdict
Due to the sub-optimal use of available space for a bigger and higher resolution screen, along with the poor battery life and somewhat lousy graphics performance this isn't likely to appeal to more demanding users. However, Acer has managed to produce a responsive machine for day-to-day tasks and would likely suit the home user very well. There are plenty of others in the price and spec range, even more from Acer itself, that are certainly worth a look, but you may want to keep the Aspire 5940G in mind – it does what it says on the tin. ®
Thanks to SaveOnLaptops for the loan of the review sample.
More Notebooks Reviews

Back-to-college
15inchers
Apple
MacBook Pro
15in
Samsung
R780
HP Pavilion
dv6
Sponsored: Minds Mastering Machines - Call for papers now open

Acer Aspire 5940G 15.6in notebook
Core i7 laptop with home entertainment credentials.