Samsung E60 e-book reader
iPad envy? Newton envy more like...
Tome raider
And, yes, once you've opened an e-book, it does provide a decent reading experience, nicely presenting the ePub-format iPad User Guide I cheekily copied across. DRM-protected downloaded from iBooks showed up in the list and could be opened but no text or images appear - better, surely, not to present them to the user in the first place - and I couldn't view any PDFs, even unprotected ones, without first registering with Adobe Digital Editions, to which the main menu's Bookstore icon links.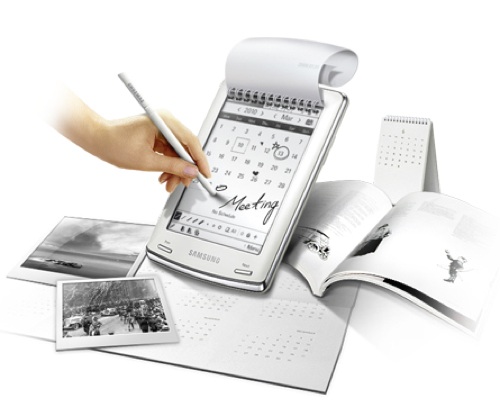 Well, on the review unit. E60s out in the field will go through to WHSmith's e-book shop instead. What this means for PDF viewing over here remains to be seen - I'm waiting to hear back from Samsung.
The manufacturer bundles a utility called Virtual Printer that converts documents into E60-frienldy forms. I couldn't try it - on a Samsung laptop, no less - because it won't run on a 64-bit OS. Another irritation: I tried to connect the E60 to the computer with two different mini USB cables I had handy because they're used with a couple of external hard drives, but neither cord would work with the E60. Only the one in the box would do, even though it appears no different from the others.
WHSmith is selling the E60 online for £199, which is considerably closer to what it's worth than the £300 list price the site claims Samsung reckons it should be sold for. Over-engineering always ups the price - just ask Newton buyers...
Verdict
Samsung could have produced a simple, slim gadget to display e-books, but instead it over-engineered the E60 in a bid to beat the opposition. The result is a chunky, clunky device the looks backward rather than forward and is expensive too. Two or three years ago, it would have been great. Now it just grates. ®
Sponsored: Minds Mastering Machines - Call for papers now open

Samsung E60 e-book reader
E Ink e-book reader with a 6in display and note-taking facility.