Samsung E60 e-book reader
iPad envy? Newton envy more like...
A la Recherche du Temps Perdu
Forget about the relative merits of LCD and E Ink screens and just think about usability, and with none of the tap-swipe-tap simplicity of the iPad, the E60 is so darn clunky, it feels like it's been in an attic since 1995.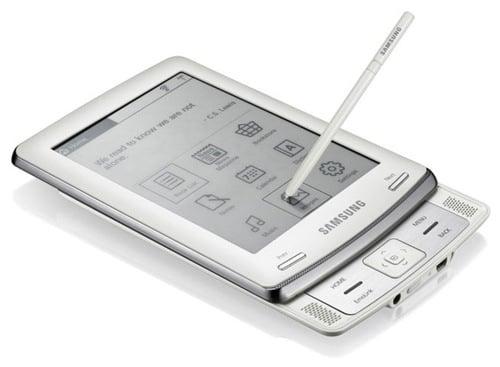 The stylus is necessary - and laggy
By all means include a stylus for writing, but not being able to navigate your digital library with a finger is a real retrograde step.
E Ink technology has two key factors to commend it - ultra-low power consumption and bright daylight legibility, though that bloody black screen flash every time it refreshes makes it no friend here - but it's not helped by Samsung overlaying a noticeably laggy touchscreen. Ink doesn't flow as quickly as the pen can move, and the range of drawing tools - five nib sizes, three sizes of eraser - would be at home on a Palm Pilot.
Couple that with the 2-3 seconds it takes the E60 to respond to any key press or stylus tap, and you have a gadget that will frustrate anyone who owns a modern smartphone or tablet.
In its favour, the E60 has 2GB of content storage on board and a Micro SD card slot for more. The slot, like the 5.6Wh, 1500mAh phone battery, sits behind a big slide up panel on the back. The reader also has 802.11b/g Wi-Fi and, should you need to listen to music while you read, a headphone socket. So why Samsung also added the pair of weedy speakers it has built into the E60 is anyone's guess. The E60's UI is straightforward, and its calendar can sync up with Microsoft Outlook.