Stereo 3D best on mobiles, says chipmaker
Movidius anticipates 3D handhelds, handsets early next year
Expect a raft of handheld devices with glasses-free 3D screens to debut in the new year alongside the Nintendo 3DS, Irish chip maker Movidius has forecast.
The company today launched its Myriad MA1133 3D chip, and while Movidius wouldn't tell us which gadget manufacturers have signed up to include it in their mobile devices - Myriad is designed to sit alongside an ARM CPU or SoC - it did say such kit will appear next spring.
Myriad is designed to allow phones and other mobile gadgetry to present stereoscopic images on lenticular screens, displays cheap enough to put on handhelds if not TVs. That said, the chip can also feed 3D content out to tellies through an HDMI link.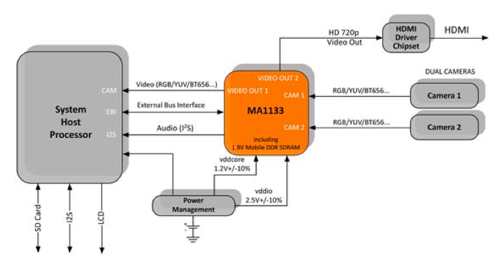 It also supports 3D photography: it can directly drive two cameras, automatically adjusting the image to cover colour and angular misalignment between the two sensors.
If that's not enough, it converts 2D video to 3D on the fly, albeit at a reduced framerate.
All impressive stuff, but no good if it's not present in devices. Movidius is pitching the chip - which is already available in sample quantities - at developers of PMPs, tablets, set-top boxes as well as smartphones.
The first Myriad-equipped devices may appear early next year at the Consumer Electronic Shows (CES), ahead springtime releases, Movidius marketing chief Bob Tait told us. Phones will take longer to appear - expect demos at Mobile World Congress (MWC) in February, with product launches later in the year.
Tait would not be drawn to answer the question of whether the Nintendo 3DS - which is due to go on sale in the February-March timeframe - contains Myriad technology. ®
Sponsored: Minds Mastering Machines - Call for papers now open