Dead Rising 2
Yawn of the Dead?
Burdensome boss battles
If avoidance is advised for zombies, it's downright admonished for psychopaths - powerful, fast-moving nutjobs who've lost it amid the outbreak. Chuck is clumsy enough, his special moves invariably ending in a stutter and a corpse snacking on his neck, but against psychopaths his stilted movements make it feel like he's the one who's a lurching, brainless cadaver.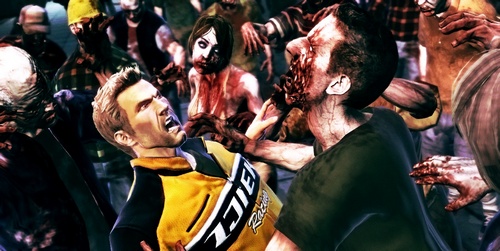 Flesh food is important - must have five a day
Of course, unevenly matched, overly prescriptive boss battles are standard Capcom fare. But the poor controls exacerbate to the point where only attritional bludgeoning and repeated restoring of health seems effective, especially against the final boss - virtually impossible, even by Capcom's infamous standards. But at least the increased number of save points reduces the trudge back after failure.
Levelling up also helps, but lags behind the difficulty curve on the first playthrough. Prestige Points return to provide increased strength, speed, item slots and special moves. Along with combo weapons, this system drives the Dead Rising 2 experience. And, in truth, it's an enjoyable aspect of the game. Left to your own devices, there's a lot of fun to be had levelling-up as you explore Fortune City, especially if a second player dips in for some co-op. But even at your leisure, Dead Rising 2 remains just too similar to the original.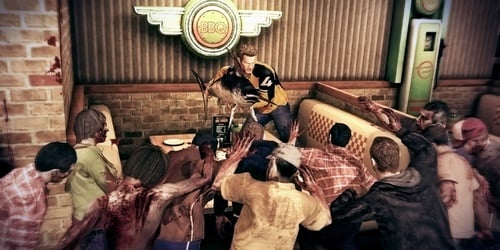 You want a big bite? Catch it!
Verdict
In Dawn of the Dead, the zombies are compelled to return to the mall through some kind of instinct - a memory of what they used to do. For a few gamers that might be reason enough to pick up Dead Rising 2, and for a few of those even reason enough to enjoy it. But for those, like me, who struggled with the original's glitches and mechanics, the sequel does little, if nothing, to improve the experience.
And for those who missed Dead Rising first time around - and haven't been dissuaded by my review – do yourself a favour and pick up the original for a few pounds, rather than wasting your money on this full-priced sequel. ®
More Games Reviews

RUSE
Halo:
Reach
Tom Clancy's
Hawx 2
Mafia
II
Sponsored: Minds Mastering Machines - Call for papers now open

Dead Rising 2
When there's no more room in developers' imaginations, uninspired sequels will haunt the shelves. Available on Xbox 360 (tested), PS3 and PC.