Coming soon: Mark Zuckerberg the comic-book hero
Creator of Facebook... bitch
Fans of Facebook creator Mark Zuckerberg will be delighted to learn that the gazillionaire internet genius and philanthropist will shortly be getting the comic book treatment in Bluewater Productions' snappily-titled Mark Zuckerberg: Creator of Facebook.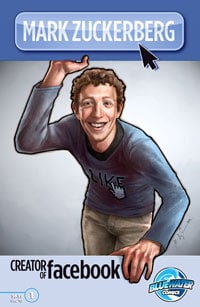 The 48-page graphic title promises a balanced view of Zuckerberg's ascent to world domination, placing the real man "somewhere in between" the bloke who stumped $100m for public schools in Newark and the "cold-blooded businessman who walks over people to get what he wants".
Writer Jerome Maida explains: "This is a fascinating story. I enjoyed researching it because it's extremely compelling. Think about it. Mark Zuckerberg is the youngest billionaire on the planet and created something that has already had a profound impact on the world. Yet hardly anyone knows much about him. It's amazing."
Mark Zuckerberg: Creator of Facebook will hit stores in December for $6.99. If that's too long a wait for a Zuckerberg fix, 1 October sees the US release of The Social Network, which premiered last week to critical acclaim.
The New Yorker's David Denby describes director David Fincher and writer Aaron Sorkin's work as a "brilliantly entertaining and emotionally wrenching" movie which "rushes through a coruscating series of exhilarations and desolations, triumphs and betrayals, and ends with what feels like darkness closing in on an isolated soul".
He adds: "The debate about the movie's accuracy has already begun, but Fincher and Sorkin, selecting from known facts and then freely interpreting them, have created a work of art."
Denby suggests that Zuckerberg, "as interpreted by this film, comes off as a binary personality".
He concludes: "As far as he's concerned, either you're for him or you're against him. Either you have information that he can use or you don't. Apart from that, he's not interested." ®
Sponsored: Minds Mastering Machines - Call for papers now open