WD Livewire four-port powerline Ethernet adaptor
One plug to feed them all
Ports multiplied
If you want to apply your own encryption key, you'll need to install and run the bundled Windows-only set-up software first, handy if you plan to add the Livewire to a powerline network you've already put in place.
WD supplies Livewires in pairs, and there's reason you might want to use one at the router end: you can hook up network kit directly rather than through the router.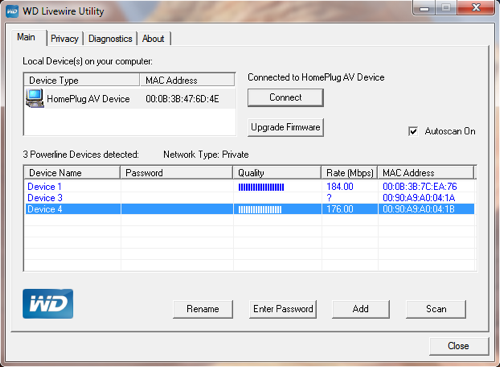 Powerline performance is highly dependent on the state of your wiring, and different power outlets can yield different results, all other factors being equal. Transferring a movie file from my network hard drive yielded an average speed of 56Mb/s, which is lower than other, single-port powerline kit I've tested, but not significantly so and still sufficient for 1080p Blu-ray content. That's a 1.4GB file copying over in 3m 24.1s, by the way.
Downloading a hefty file from the internet on one machine at 19.6Mb/s saw the movie transfer time rise to 4m 16.1s - 44Mb/s.
Certainly I was able to sync video to the Apple TV while simultaneously watching higher bitrate BBC iPlayer content on my Bravia telly. Of course, with both devices making use of the single link back to the router, there will be diminishing returns the more kit you add, but the upside is the convenience of connecting multiple devices to the one adaptor.
And it's not an expensive offering. You can buy the two-adaptor pack for around £77 which is what a pair of good one-port adaptors will set you back. Looking for a single-adaptor offering? Solwise has a three-port 200Mb/s adaptor here, but I've not tested it so can't yet recommend it as an alternative.
Verdict
WD's Livewire adaptors don't deliver any performance benefit over rival powerline products, but they do have the advantage of networking more than one device through a single power sockets - very handy if your home is not well endowed with mains plates. ®
More Powerline Ethernet Adaptor Reviews

D-Link
DHP-306AV
Devolo
dLan
AVplus
Belkin
Powerline HD
Gigabit
Solwise
Piggy 6

WD Livewire four-port powerline Ethernet adaptor
Four-port powerline Ethernet adaptors for networking devices over mains wiring.