WD Livewire four-port powerline Ethernet adaptor
One plug to feed them all
Review As more and more set-top boxes, TVs and Blu-ray players gain the ability to reach out to the internet for content, your average one-port powerline Ethernet adaptor just won't cut it any longer.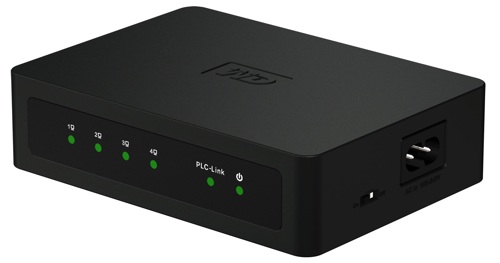 WD's Livewire: power cable in at one end...
Case in point: I have an internet TV and an Apple TV box in my living room, and all of them are able to go online for content. The telly has no wireless capability, and while the Apple TV does, I prefer the speed Ethernet brings over wireless when syncing content to it.
So, two devices, one powerline adaptor. Result: swapping Cat 5 leads back and forth according to need. Not an optimal solution, and one that would be worse if I get a Freeview HD-capable DVR and a Blu-ray Disc player.
Too few free power sockets make putting in a heap of single-port adaptors a no-go. Fortunately, Western Digital has the solution: it's Livewire adaptor doubles up as a four-port switch.
To be fair, WD isn't the first to do this. Netgear had a similar offering out years ago, and in a more compact form-factor. I used one very successfully, but, as an 85Mb/s device it had to go when I upgraded to the 200Mb/s HomePlug AV standard.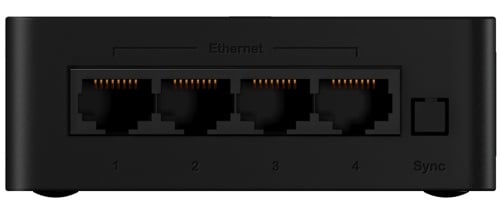 ...and up to four networkable devices in the other
Thankfully, that's a technology the WD Livewire supports and delivers the push-button security set-up common to all the latest HomePlug AV devices, allowing me to swap a Livewire for said single-port adaptor and hook up telly and three other boxes simultaneously.
COMMENTS
The title is required, and must contain letters and/or digits
Maybe I'm missing the point but if you are using cat 5 cable to your equipment and router why not just buy a cheap gigabit switch (for much less) and use that?
Seems to me you'll get better transfer rates cheaper and avoid all the unwanted noise from powerline kit.
RF noise - SW noise
It would be nice if you could check with a short-wave radio e.g. about 6 Mhz (Deutsche Welle), while the unit is transferring data. My neighbours had one of the earlier units and it completely wiped out 2.5 - 20 MHz, 24 hours a day but did not affect LW, MW or FM. Fortunately they moved before I had to get Ofcom in. I don't think SW users are unreasonable in detesting these things - remember that SW radio is the only long distance communication method (unreliable as it is) that does not require an intervening government controlled infrastructure (cf Internet radio, satellites etc), and the laws of physics mean we can't simply use other frequencies for that purpose. By contrast there are many different ways of connecting 2 boxes in a house. I'd prefer the powers that be to release more spectrum for WiFi, using devices designed not to interfere with other users. Powerline Ethernet is an ugly and inconsiderate solution, the fly-tipping of the radio spectrum.
web
"http://www.mikeandsniffy.co.uk/UKQRM/"
It's probably just me... but why do so many protest websites of this nature look so bad and shoddy? Sure, it's not the appearance but the content that we should be taking into account, but I'm sorry - no matter how well researched and documented their objections might be, making it look and feel like so many other conspiracy websites 'proving' that moon landings were fake or UFOs built the pyramids has undermined their cause. Unless that is their target audience?
Is there some research that has shown that the legitimacy and quality of evidence is backed up by the number of different sizes and colours of font used on a given page? Bonus points for exclamation marks. (fortunately the javascript to play sounds for every button mouseover appears not to work) I don't expect everyone to be a web designer, but someone has clearly taken the time and effort to make the pages look like that rather than just use plain, businesslike style. Avoiding sensationalist words and phrases too would help.
Don't get me wrong - I'm not a great fan of the powerline stuff, more because it is fairly flaky than because it is 'the worst thing to happen to Shortwave radio ever!'. I am using it in one library out of necessity, where I can't run new cable as it is a listed building (which in this environment would have required spending a number of months getting approval from various internal and external committees). I do know of someone (anonymous in case she's involved in that website) who was very vocal against the first generation 11mbps stuff who had personally run various tests to demonstrate the problem (don't know about the subsequent versions). But that site just makes me laugh at how bad it is and devalues anything it might legitimately have to say. Which might be a shame.
Re: RF noise?
Appropriate unit? How about 'Archers Drop-outs'?
So, this box has 0 ADs if the transistor radio in my living room is anything to go by.
Switch
I think the point is that some devices are in a different part of the house to where the router is, and you don't want to pull a long CAT5.
Having said that: if you have multiple devices in the same room, you can just plug them into a 5-port 10/100 switch (for about a tenner) and uplink that into a standard homeplug adapter. So you're paying a premium here just for avoiding a bit of clutter.