App steers cyclists away from traffic, upward inclines
Downhill racing
Bicycle trade organisations have commissioned a satnav app that, they claim, steers cyclists away from busy roads and shortens journey times.
The Bike Hub Cycle Journey Planner shows bicycle-friendly shortcuts that avoid traffic congestion and gives priority to downhill routes. A bike shop locator displays directions to traders within a six mile radius, and you can call on the app to find London Cycle Hire Scheme stands.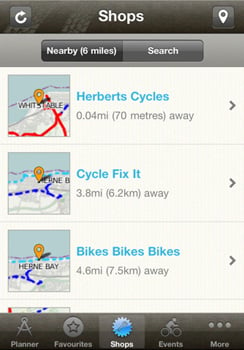 Produced for the Bicycle Association of Great Britain and the Association of Cycle Traders, the iPhone app is already hugely popular on iTunes - it remained in the top three free navigation apps all weekend.
The app includes articles on cycling, road laws and safety precautions, which are of particular note as the app is specifically designed to improve the welfare of cyclists and limit the number of accidents.
Maybe it'll encourage London cyclists to obey traffic lights, but , cynical pedestrians that we are, we doubt it.
The routes are calculated using data from CycleStreets of Cambridge, a community-based not-for-profit group that uses mathematical graph theory algorithms to calculate paths. Mapping is provided by OpenStreetMap, a community of 300,000 enthusiasts worldwide who collaborate to produce up-to-date maps.
A future update of the Bike Hub app is set to incorporate turn-by-turn directions.
The Bike Hub app is available free from the App store. ®
COMMENTS
"gives priority to downhill routes"
If it can find me a downhill route from my home to work and then another downhill route back home again, then it's worth every penny.
Sounds great...
... when's the Android version coming though? :-(
Another confident cyclist
As another cycle commuter (OK, not all the time these days) I would say that whilst I understand the issues of cyclist passing through/jumping red lights. It's still not something I would do as it just sets a really bad example and tends to lead to "retaliation" or remonstrations from motorists (I have gone through temporary lights at roadworks however, as there is often room to pass safely inside the cones out of the traffic flow).
A bit more tolerance and understanding of each others views from pedestrians, cyclists, motorists (including taxi & bus drivers etc) is whats really required.
You need the soon to be announced Escher version.
That is all.
From a Cynical Cyclist
Maybe they can invent an app for pedestrians that'll stop them stepping out at junctions without looking, and even obey pedestrian signals! Better yet, take the iPhone away from them altogether.