Sony launches net content streamer in Blighty
Bravia Internet TV in a box
Sony has introduced a set-top box that will present the same Bravia Internet TV and DLNA media sharing features built into its latest tellies and Blu-ray players on other screens.
The SMP-N100's content feeds are accessed through Sony's XMB user interface, which allows you to call up the likes of Lovefilm, BBC iPlayer, Demand Five, YouTube, FIFA football highlights, EuroSport content and a host of material less relevant to a UK audience.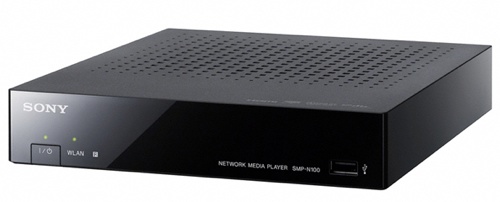 The box connects to TVs through its HDMI, composite- and component-video ports. It has Ethernet and Wi-Fi for network connectivity, pulling down the internet-sourced material as well as file shares on computers and Nas boxes.
You can also control it over Wi-Fi from free iOS and Android apps.
There's a USB port on the front to which you can connected drives containing AVCHD, DivX HD and MKV, and it'll play them back. You may have some success with Xvid AVIs, but not all will play.
The SMP-N100 goes on sale next month for around £150. ®
COMMENTS
Maybe I'm missing something here...
I noted that the RRP for this box is £150.
Granted, that price will probably fall once it reaches the online retailers, but it still looks steep for what the device offers. As you mentioned, Sony also produces network-enabled Blu-ray boxes like the BDPS370, which offers the Bravia TV online video facilities you mentioned, along with a Blu-ray disc player.
Given that you can pick up the BDPS370 online for about £120, what does the SMP-N100 offer that its Blu-ray brethren don't? Seems to me that you'd have to be pretty Blu-ray-averse not to go for the latter - unless they can get the SMP-N100 under £100, in which case it might fit the "higher-end media player" market.
Sorry if I've missed something here - coat on standby...