Toshiba Satellite A660 16in laptop
Symmetry, we've heard of it
Better rivals
For folk who want to get some work done, the calculator-style keyboard isn't bad either thanks to its solid underpinning. The trackpad is large and can do multi-touch. You can also disable it by pressing a small button above it, and this also turns off the unnecessary illuminated strip at the top of trackpad.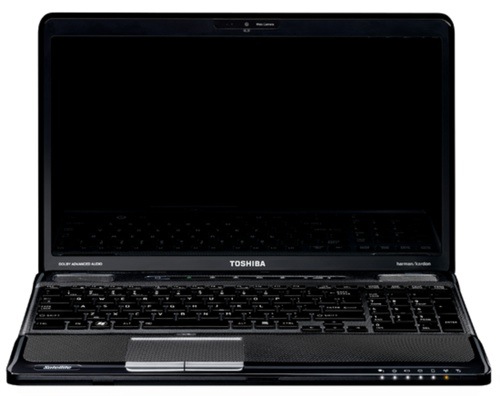 Oddly askew
Speaking of illumination, there's a strip of touch-sensitive keys above the keyboard, including play/pause, volume controls and a wireless on/off switch. They all require a firm push to activate, but seem placed more for design reasons than utility.
Tinkerers will be pleased to learn that both of the A660's DIMM slots and its hard drive are accessible through hatches in the base plate. The 48Wh battery isn't large and doesn't deliver much in the way of extended runtime. I got just over an hour while running Reg Hardware's usual PCMark Vantage loop test - barely worth bothering with.
The A660-15T on test will set you back around £900, which isn't good value. The A660-11M, which is the 15T without BD compatibility, is a much more reasonable £799. You can shave a lot more off by opting for a lesser CPU, taking the price down to well under £600. But if we have 800 quid to spend, we'd go for HP's Pavilion dv6 - reviewed here - which delivers better performance and looks nattier too.
Verdict
Toshiba's Satellite A660 has looks that only a mother could love and lousy battery life, but at least delivers performance and a good range of capabilities. ®
More Notebooks Reviews

Back-to-college
15inchers
Apple
MacBook Pro
15in
Samsung
R780
HP Pavilion
dv6

Toshiba Satellite A660 16in laptop
Solid if un-sexy notebook with a Core i7 processor, Nvidia graphics and a 16in screen.
Price:
£899 (with Blu-ray) £799 (without Blu-ray) RRP