Toshiba Satellite A660 16in laptop
Symmetry, we've heard of it
It's what's inside that counts
Get past the looks, and the A660 has a lot to commend it. There are four USB 2.0 ports, one of which doubles up as an eSata connector, rather than the usual count of three, and an HDMI connector too.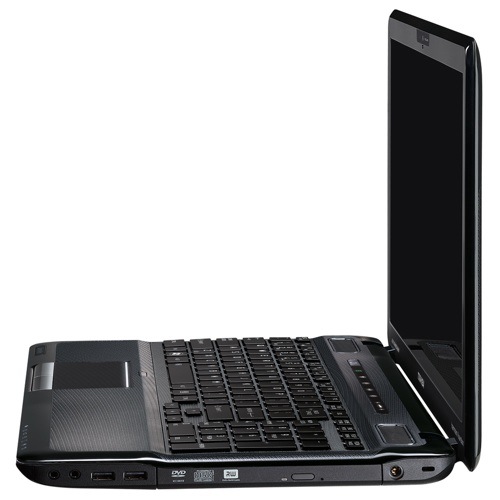 Avoid the Blu-ray version and save £££s
While including an ExpressCard 34 slot might not matter much to most folk, Toshiba equips the entertainment-oriented A660 with a wee Windows Media Center-friendly remote control that slips neatly into said slot when not required. That's an example of smart design that even Apple failed to manage in the days when it was shipping MacBook Pros with remotes.
I looked at the A660-15T variant, which packs in a Blu-ray drive and a four-core, eight-thread Intel Core i7-720QM processor, but Toshiba offers a range of i3, i5 and i7 CPUs. All the A660s come with 4GB of 1066MHz DDR 3 memory, SDXC-compatible card readers and 802.11n Wi-Fi, though, and most have 500GB hard drives - one model has a 320GB unit.
The glossy 16in screen is here driven by an Nvidia GeForce GT 330M GPU, but others have the GeForce G 310M or even Intel's CPU-integrated core, so check which you're getting before you buy.