Better rivals
For folk who want to get some work done, the calculator-style keyboard isn't bad either thanks to its solid underpinning. The trackpad is large and can do multi-touch. You can also disable it by pressing a small button above it, and this also turns off the unnecessary illuminated strip at the top of trackpad.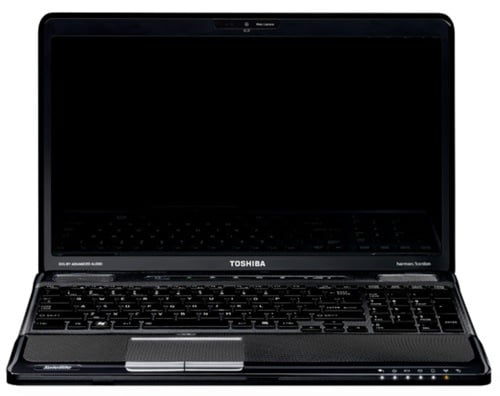 Oddly askew
Speaking of illumination, there's a strip of touch-sensitive keys above the keyboard, including play/pause, volume controls and a wireless on/off switch. They all require a firm push to activate, but seem placed more for design reasons than utility.
Tinkerers will be pleased to learn that both of the A660's DIMM slots and its hard drive are accessible through hatches in the base plate. The 48Wh battery isn't large and doesn't deliver much in the way of extended runtime. I got just over an hour while running Reg Hardware's usual PCMark Vantage loop test - barely worth bothering with.
The A660-15T on test will set you back around £900, which isn't good value. The A660-11M, which is the 15T without BD compatibility, is a much more reasonable £799. You can shave a lot more off by opting for a lesser CPU, taking the price down to well under £600. But if we have 800 quid to spend, we'd go for HP's Pavilion dv6 - reviewed here - which delivers better performance and looks nattier too.
Verdict
Toshiba's Satellite A660 has looks that only a mother could love and lousy battery life, but at least delivers performance and a good range of capabilities. ®
More Notebooks Reviews

Back-to-college
15inchers
Apple
MacBook Pro
15in
Samsung
R780
HP Pavilion
dv6

Toshiba Satellite A660 16in laptop
Solid if un-sexy notebook with a Core i7 processor, Nvidia graphics and a 16in screen.
COMMENTS
What lousy specs
For 900 quid they couldn't even increase the resolution of the screen the tiniest bit? I haven't bought a new laptop in years because the trend has actually been toward increased dot pitch, not decreased. I also find 16:10 generally better for everyday tasks than either 4:3 or 16:9, hits the sweet spot somehow, but I must be in the minority. Too bad my choices have been effectively wiped out by profit mongering.
That's barely adequate specs
You used to be able to get PCs that put that to shame: 1920x1200 in 15". What happened? Was that just a seasonal fad, then people figured out that software hadn't quite caught up to the hardware, or OEMs had no idea how to preconfigure font scaling? (Though OS font scaling and browser pic scaling seems to work fine these days.)
Laptops these days require external keyboard and monitor
1) Widescreen laptops have their vertical pixels reduced to x768 where it used to be x800. This means a lot more downward scrolling. Waste of time. Also because the screen is more restrictive than the graphics card, to see in a higher resolution you need to plug in an external monitor.
2) Keyboards with Numeric Pads are not good if they result in more keys on the standard keyboard being doubled up requiring the Function Key to be pressed such as Home / End / Page Up / Page Down. Try positioning your cursor in an MS Word Document somewhere in the middle and selecting all the text to the bottom of the page. CTRL-SHIFT-END becomes CTRL-SHIFT-FUNC-END. What a joke. So you now need an external keyboard. (You'll also note that the Back Space, Enter and Right Shift key will be shortened - so when you use your little fingers on the right to hit the delete, you'll have more chance of missing the key.)
So the above two combine to slow down productivity on a laptop compared to previous generations.
Today's laptops are rubbish.
agreeing with other posters here
yes the numeric keypad is a godsend, even as a home user, adding stuff up, inputting numbers into hobby related applications (bowling league software for one) makes having a numeric keypad a must.
and as for the looks...whats wrong with it? it looks like it is meant to , it doesnt have any snazzy colours, or led's all over the place, but its pretty sleek, the keyboard is very comfortable having tried a similar design.
And its performance is upper mid-range, so the price isnt the worst either.
add to that the fact that Toshiba laptops for the main part are pretty rugged, it should last a good while.
Other manufacturers may make lighter better looking machines but the build quality isnt as good.
right I am off to get some Humbrol paints to make my Samsung more interesting :)
Re: Laptops these days require external keyboard and monitor
<smug>
My 1440 x 900 15in MacBook Pro isn't rubbish. Oh no.
</smug>
:-)