Keene USB FM Transmitter
Wireless music for 15 quid, surely not?
To broadcast, I'd chosen the higher end of the spectrum, leaving the BBC unfettered, but my choice still conflicted with another station which duly disappeared when the USB FM Transmitter was active. An interesting discovery was that clicking the mute option didn't cease broadcasting, which meant that, having successfully killed off Heart 106.2 FM, it didn't reappear as I was transmitting silence. It then occurred to me that if you have a very close neighbour from hell who regularly tunes in to some cacophonous channel, why not find the station frequency and treat them to the delights of John Cage's 4' 33" on a permanent loop?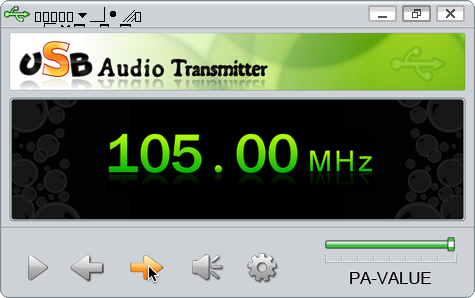 An undemanding, inexpensive and effective way to stream audio in the home
Even though it requires USB 2.0 interfacing, the USB Audio Transmitter is an undemanding application that even runs on Windows 2000. Using a PC card USB 2 adaptor I tested it on an old PIII Dell Latitude running Windows XP. It worked, no problem. Next was to try it on a Mac and, again, no problems with either Parallels or VMWare Fusion running XP. Still, it's a pity there's no native Mac or Linux software.
Now DAB radios alone are a different beast in terms of price and functionality but if, like me, you've a radio in every room, including the smallest one, kitting yourself out with digital alternatives throughout the home is a daunting prospect. And if you want battery operation to use a digital alternative in the bathroom, then the price of rechargeable power pack alone could buy at least six Matsui portable radios, the likes of which, for about a decade, has burbled at me while I shave – it runs off cells bought for a couple of quid from a street market and they last all year.
Verdict
For £15 here's an instant upgrade for the gear you already know and love. Sure you'll need to have a computer running, but that's hardly a novel requirement and it doesn't have to be a very powerful PC either. Any audio you can access on-line or play on your PC can be transmitted, so dad can Listen Again in the garage or a house full of impoverished students can tap into their favourite playlists, or the missus can twiddle her trusty Bush and listen to a podcast in the bath. It's not digital, but it's certainly listenable and, at this price, well worth a try. ®
More Wireless Music Gear Reviews...

Nokia
Home Music
Revo
Heritage
B & W
Zeppelin Mini
Logitech
Squeezebox
Radio
Sponsored: Minds Mastering Machines - Call for papers now open

Keene USB FM Transmitter
USB adapter that transmits any PC audio playback to radios around the home.