Keene USB FM Transmitter
Wireless music for 15 quid, surely not?
Back on the main interface there's the PA Value slider for signal strength, which the seven-page illustrated Word document posing as a manual recommends is set on maximum. There's a Play button too, which is more complex than it seems, but more on that in a moment. The two arrow keys set the broadcast frequency that appears in the display above, and the speaker icon mutes the output.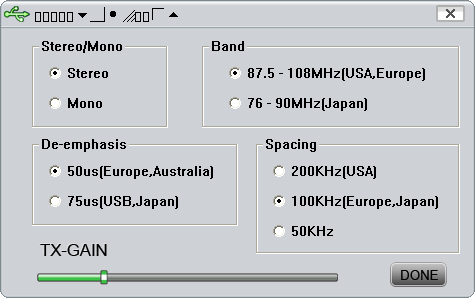 The transmitter software features broadcast options to suit receivers in different territories
When it comes to the Play button, the perceived wisdom is that it appears as a triangle when it's inactive. When playing, the icon toggles to show parallel lines to suggest you click on it if you want to pause the playback. Alas, this application has it round the wrong way. The triangle shows when it's playing, along with the broadcast frequency. When it's paused, the transport button and the frequency display changes to those parallel lines.
If you're the sort who takes the intuitive approach to set things up, you could be in for a bit of head scratching given this reversal of conventions. The easiest way to remember what mode you're in is, if you can see the frequency display, then you're broadcasting.
When you've chosen the frequency you want to broadcast on, you simply play whatever you fancy. Unlike an Internet radio, the choice is made from the computer and the tuned in FM radios are slaves to the rhythm. I tried out Internet radio stations from iTunes, shared media from my Nas, even the BBC's Listen Again service, testing with five different radios, all without a hitch. CDs played too, as did DVDs, the radios picking up the audio and presenting no lag whatsoever with A/V synchronisation during playback.
Within the home, the reception was quite good with just the TX Value needing pushing up slightly to match volume expectations. In most cases, interference could be dealt with by repositioning the receiving radio's aerial. There was even enough reach for garden listening; tuning in with a PMP. That said, the further the distance, then the fewer obstructions the better and if you wander about, interference does creep in. As with indoor use, it's really a matter of positioning for best reception.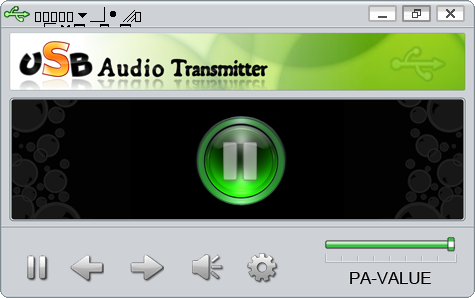 Playing dumb: the software's play/pause conventions are reversed
Sonically, there is some low level hiss present which, for the most part, is going to be buried by ambient noise in most listening environments. It was only during quiet passages with the amplification turned up loud that this became obvious, and most music will drown it anyway. Whines and buzzes were largely kept at bay by repositioning the transmitter wire – the device itself even has an eyelet at its end to hang it up with.

Sponsored: Minds Mastering Machines - Call for papers now open