Nuclear merchant ships could open up Arctic routes for real
British shipping biz poised to make a killing?
British business interests are suggesting that it may be time to revive the idea of nuclear-powered commercial shipping. Media reports to the contrary, the Arctic is not yet open to normal merchant ships - but it might be opened up by nuclear ones, which would also offer zero emissions and freedom from high oil prices.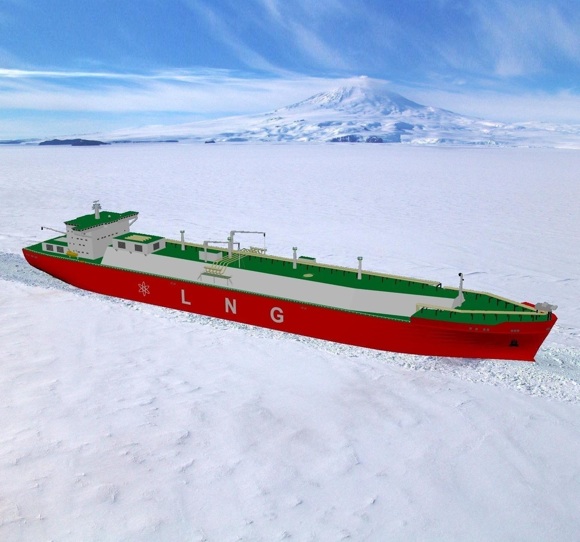 A merchant ship which actually can do the North East Passage without a Russian icebreaker in front.
Specifically, Babcock Marine - which services and refits the Royal Navy's nuclear submarine fleet - considers that it would now be possible for shipping lines to save money by switching to nuclear propulsion for specialist tankers carrying liquefied natural gas (LNG). With gas demand going nowhere but up, there are a lot of these ships building or set to be built at the moment.
Natural gas, mainly made up of methane, is liquefied for more convenient storage and transport by chilling it down far below zero. LNG ships store this liquid in their characteristic spherical, insulated tanks, effectively giant thermoses designed to keep the liquid gas cold. As insulation can't be perfect, in the normal course of events gas boils off and escapes from the tanks through relief valves. Several per cent of a cargo can be lost in this way on a longish voyage.
Oldschool LNG ships simply accept the losses, and minimise the cost of them by using the boiled-off gas as fuel for the ship's propulsion. But nowadays it's becoming common practice to chill the lost gas back down again and put it back in the tanks. Naturally the chiller machinery needs power, which must be generated somehow - the standard means being fossil-fuelled generators, adding to the running costs and emissions of the ship and taking up space which could otherwise be used for more cargo.
Babcock's engineers consider that a nuclear powerplant for a big, fast LNG ship using reliquefying gear would be "compact compared to normal power methods for this vessel type", letting designers get more payload aboard. Naturally the heavy emissions of CO2, NOx and SOx which normally come from marine diesels would be gone. The ship would also be very fast, which is good, as time is money in commercial shipping.
"Nuclear power for commercial vessels is becoming significantly more attractive on a number of counts, not least from an environmental perspective," says Babcock bigwig David Dobson.
Nuclear propulsion for ships came in following World War II, driven as marine tech tends to be by the world's advanced navies. Nuclear power is particularly attractive for submarines, as it requires no atmospheric oxygen. Conventionally-powered subs must use batteries (or other air-independent options which involve carrying oxidiser of some type as well as fuel), which effectively cripples them when submerged - they are almost not submarines at all compared to nuclear ones.
Sponsored: Minds Mastering Machines - Call for papers now open