Kindle users finally get to pay for games
Actually... game, singular, but it's a start
Kindle users bored of the latest bonkbuster can now run up a game of scrabble on their e-ink screens, once they've shelled out $5 for the privilege.
In January Amazon announced a Kindle software development kit, and put a call out for applications to turn its e-book reader into a tablet platform. Since then we've seen a couple of free games, but now Kindle users can hand over cash for a mobile version of scrabble.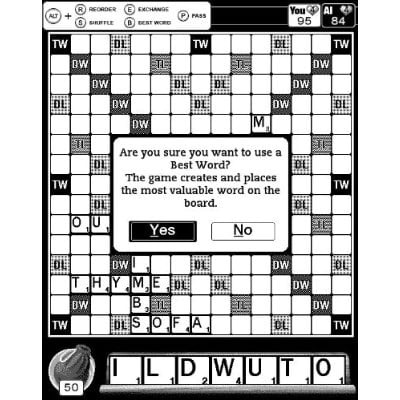 The game can be played against the Kindle, or in two-play-pass-the-tablet mode, and was developed by Electronic Arts. Early reviews over at Amazon are suspiciously polarised, though discontents seem to be focused on lack of international support (the game is currently US only) and poor interface design rather than any inability to play Scrabble.
Scrabble joins the pair of free applications, "Shuffled Row" and "Every Word", in the category of Kindle content that Amazon terms "active". Those first two were developed by Amazon itself, so don't really count when it comes to application store stacking.
Kindle applications are obviously limited by the slow refresh and gray scale nature of the e-ink screen, but potential developers are also concerned about Amazon's long-term commitment to the Kindle as a hardware platform. Amazon is interested in selling books, and owning the distribution platform, but it can do that in software with Kindle clients on the iPad, Android, and just about every other hand-held device - so there will come a time when Amazon no longer needs to market its own hardware.
A handful of Word games aren't going to challenge the iPad any time soon, but there are a lot of Kindle owners out there, many of whom will be willing to buy an app or two. So the long term future of the of the platform may not matter to the developer with the right idea. ®
Sponsored: Minds Mastering Machines - Call for papers now open