Fraunhofer boffins develop 'Titanium foam' endoskeletal implants
Vorsprung durch bendo-Materialforschung
Titanium - it's everywhere these days, long having spread beyond its initial uses in aerospace. Fruitbite laptops are cased in it, high-end tools and cutlery are made from it, there's even jewellery.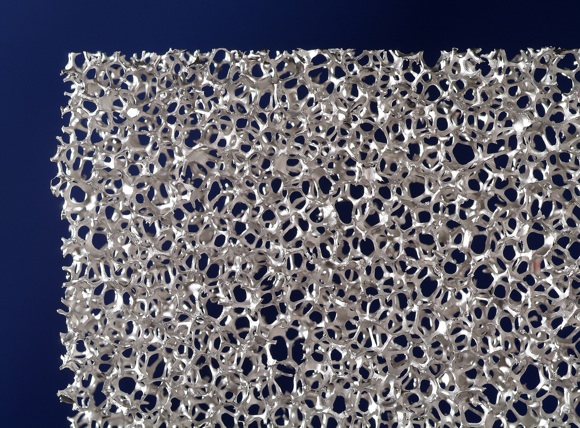 The latest in foamalloy endoskeletons.
Titanium alloy is also used for medical implants, and is well thought of in that role. But it seems that the miracle metal - as strong as steel but half the weight - is inconveniently stiff. The human bone that it replaces is bendier, and superstiff titanium replacements can cause adjacent bones, relieved of loads which would normally be put on them due to their yielding neighbours, to atrophy from lack of work. Also a normal titanium implant, though it often bonds well with the bone it is attached to, can break free.
Enter the remorseless German boffins of the Fraunhofer Institutes, whose tolerance for unsatisfactory situations is famously nonexistent. They say they've come with a brilliant new piece of technology in the form of titanium "foam".
Not only is titanofoam bendy like a bone, it is also easier for living bone to bond to, according to the remorseless Fraunhofer scientists of the Institut für Fertigungstechnik und Angewandte Materialforschung (IFAM) and the Institut für Keramische Technologien und Systeme (IKTS).
"The mechanical properties of titanium foams made this way closely approach those of the human bone", reports Doktor-Ingenieur Peter Quadbeck of IFAM. "This applies foremost to the balance between extreme durability and minimal rigidity."
The "TiFoam" is made by soaking ordinary polyurethane foam in a solution containing fine titanium powder. Then everything except the titanium is brutally vapourised and the powder sintered together, forming a metallic replica of the original polyurethane.
According to this statement issued by the IFAM, the Fraunhoferites' commercial partner says it will develop TiFoam bone implants "soon". ®
Sponsored: Minds Mastering Machines - Call for papers now open