Focal point
The main changes are a space bar – which now stretches the width of four keys rather than two – and the removal of the E72's optical trackpad in favour of a more traditional navpad. No bad thing in my book, as I found the E72's pad too skittish. Under the hood, you will find a 600MHz ARM chip with 256MB of RAM – up from 128MB in the E72 – which means the E5 runs fast and can multi-task without slowing.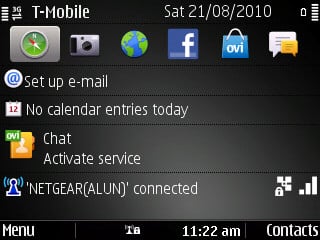 Home screen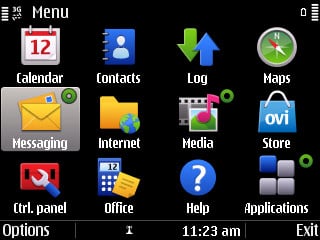 Main menu
The camera boasts the same 5Mp count as the E72 but is a fixed-focus unit. As far as basic phone cameras go the E5's is adequate but nothing more and the absence of a macro mode means shooting targets less than half a metre away is pretty pointless. The E5 lacks the 72's front facing VGA camera, but that is hardly a loss.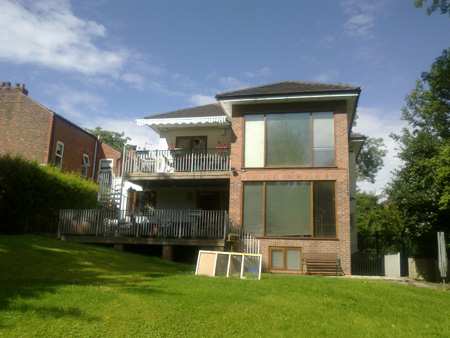 Click for a full-resolution image
The E5 uses the S60 3rd Edition Feature Pack 2 OS which, though looking a little long in the tooth, has the benefit of being familiar and reliable. It also caters for most business needs with an excellent phone book, support for multiple e-mail accounts, Lotus Notes Traveler and Microsoft Exchange and Office Communicator. Nokia also bundles a fully functioning installation of Quick Office.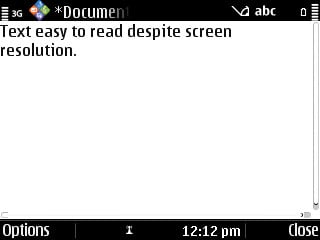 Quick Office WP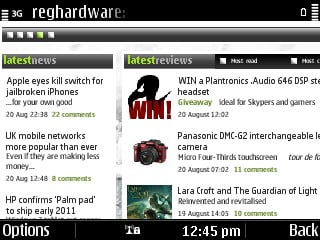 Web browsing
The screen is a 2.4in, 320 x 240 affair which lacks the E72's 16m colour palette and accelerometer, but works well in direct sunlight. Web pages are rendered well and easy to navigate using the D-pad, but browsing on a 2.4in screen is an inherently underwhelming experience, even with Flash.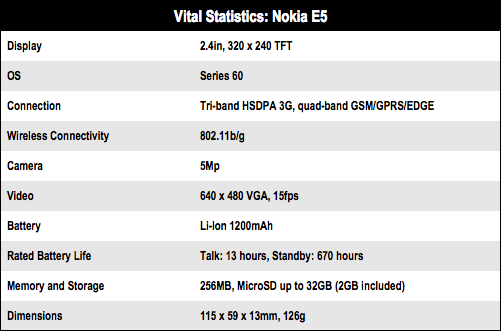 COMMENTS
VoIP on E72
I don't have any problems at all using VoIP on my E72 connected to my WPA/WPA2 network. Nor, indeed when I'm getting it to connect via 3G data and a PPTP tunnel as well, even when there are other network apps running in the background too.
Nor, indeed, do Bluetooth or WiFi appear to be affected by taking the battery cover off - other than by the fact that you need to keep a finger on the battery to stop it dropping out, which would obviously affect the connection somewhat.
Yes, I always choose my technology based on how pretty it is
I got some scatter cushions you might be interested in.
Lets do the timewarp
Can't be arsed reading the review, but it appears from the picture that your reviewing the palm centro?
IMAP client?
Does the IMAP client work on this thing, in the same way that it spectacularly fails to work at all on the E72, and that Nokia absolutely fails to do anything about or even acknowledge that it doesn't work?
...and when I say "it doesn't work", I mean exactly that - it doesn't work. At all!!