Can't see the video? Download Flash Player from Adobe.com
Rako
Using an Apple iPad, Rako Controls director Peter Broome demonstrates how a range of the company's products – controlling interior lighting and blinds – can be operated from your fingertips. Check out the Rako iPad and iPhone app here.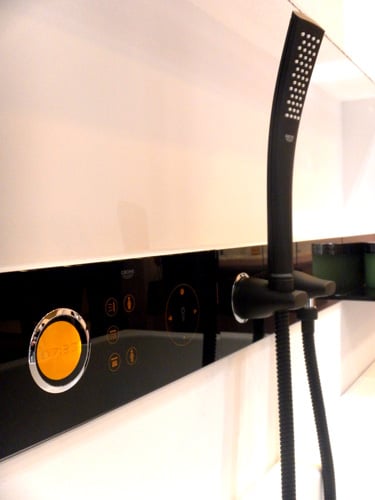 Bathroom tiles for the digital age
Ondus Digitecture
If you share a bathroom, stepping into the shower can often be a battle with the elements: you can find yourself in hot water or things are running cool. Unveiled at the show, Grohe's Ondus Digitecture offers architects a range of digital bathroom fittings based on a 5 x 5cm grid system. Features include his and hers memory setting so your shower runs at the temperature that suits you. Could be worth splashing out for.
Can't see the video? Download Flash Player from Adobe.com
Zaha Hadid Quadro
British-Iraqi architect Zaha Hadid is better known for her architectural works but here, she's applied her unique flair to the design of a tap for Triflow. Besides the usual twists and turns for domestic hot and cold water, the tap features hot and cold filtered water at the touch of a button. At around £7000 the Triflow Quadro TF-KTQ 808 is very much a special order. Hadid's contribution also helps raise the profile of Triflow's anti bottled water campaign: Back to the Tap.
COMMENTS
Salmon skin faux leather trim.
Tacky, horrible bling crap and I have to say it looks perfectly at home on a BMW X6.
Anyone know what it was that posessed BMW to make a car that any drug dealing gangsta wannabee would cut off his left nut* to own?
*Or, more likely, someone else's.