Apple iPod Shuffle 4G
Not-so-slight return
Out loud
There's an extra button that wasn't present on the 2G Shuffle: the VoiceOver key, used to get the player to speak out the title and artist of the track currently playing. Hold it down, and you get a sequential read-out of any playlists sync'd to the device. They're read in sequence - just press play when you hear the one you want. If the read-out is too slow, you can press the track skip keys to move forward or back.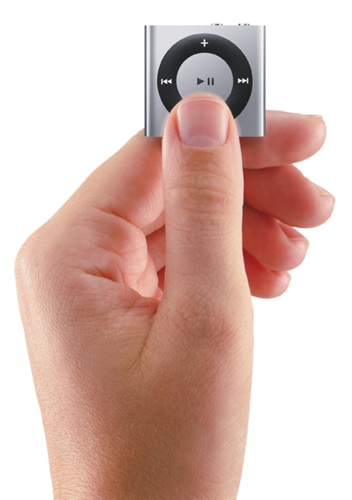 Even smaller
Sure, VoiceOver is no reason to chuck out a perfectly working 2G Shuffle and replace it with a 4G, but despite the inevitable broken English of the system's mix'n'match syallable voice synthesis, it's nice to have for playlist navigation. I don't need to to tell me what track's playing - I know what I put on the Shuffle.
And here's a quirk: while VoiceOver plays on the bundled Apple earphones - fading the track into the background while it's speaking - it didn't on the B&W P5 headphones I was also trying the player with. The music fades out, but there's no track ident. Put the Apple 'phones back in and the voice returns.
Now, the P5's in-line volume controls adjust the Shuffle's settings as well as the Apple ones do, but it seems VoiceOver requires the latter. I tried the Shuffle at a time when I didn't have other earphones to hand, so I can't say whether this is a broader issue, or limited to the P5s, but it wouldn't surprise me if this was a common problem with third-party eargear.

Sponsored: Minds Mastering Machines - Call for papers now open