Apple iPod Shuffle 4G
Not-so-slight return
Getting it right
As ever, the on/play in sequence/shuffle tracks key hasn't been designed for folk who nibble their nails to the quick, but it's not like you'll be flipping in back and forth frequently. And though the VoiceOver key is small, it's useable whether the Shuffle's in a pocket or pinned to something.
The Shuffle remains a gadget designed to be operated without being looked at at the same time, and in that it works perfectly.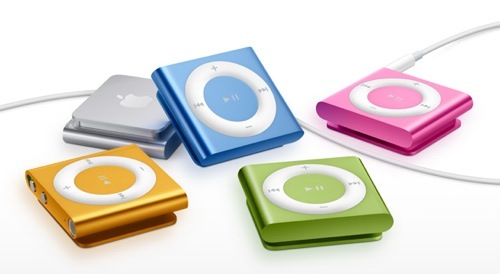 Colourful selection
I've always believed that the Shuffle is the best-sounding iPod. I've not had the new Nano and Touch to try, so I can't say the sure that that's still the case. I don't think it's sounds quite as good as the 2G Shuffle - the bass seemed weaker, but that may be because my memory of the 2G's sound is conditioned by the use of third-party earphones.
Even so, the 4G Shuffle's sound is good, and improved by the use of third-party phones, though you may lose VoiceOver.
Battery life is pegged by Apple at 15 hours which is more than enough to allay fears that it'll die on the way into work. I didn't run it for a full 15 hours at a stretch, but my more real-world 'play a while here, play a while there' usage doesn't leave me with the belief that Apple has over-exaggerated.
Verdict
The iPod Shuffle remains an ideal casual-use music player, perfect for folk just want to grab some tunes and go - I keep my 2G in the car, for instance. Now that Apple has put back the controls, it's once again tops for users who don't want to bring it out into the open just to skip tracks or change the volume. Apple could have been more generous with the capacity, but more most Shuffle owners 2GB will be plenty. ®
More Music Player Reviews

Apple
iPod Touch
4G
Apple
iPod Nano
6G
Sony
Walkman
NWZ-A845
Cowon
iAudio J3
Sponsored: Minds Mastering Machines - Call for papers now open

Apple iPod Shuffle 4G
Tiny clip-on music player for casual use.