Apple iPod Shuffle 4G
Not-so-slight return
Review The iPod Shuffle's entire history is a testament to the fact that Apple doesn't always get products right. The fact it exists at all shows Steve Jobs was wrong to say that consumers don't really want low-cost, plug'n'go music players. They do, and if the number of Shuffles seen on lapels and bagstraps around the capital is anything to go by, they're downright keen on them.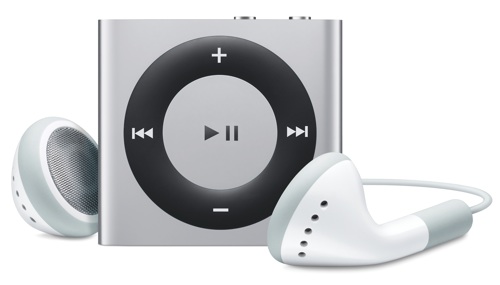 Apple's iPod Shuffle: back to its best design
So the Shuffle came into being despite Steve's comments, first defying the then-held belief that an MP3 player has to have a screen. Then, with the second-generation product, that it had to be made out of cheap plastic. The 2G Shuffle was a metal-clad affair, and it became the line's defining model.
And so Apple chucked out the design, dropping the control keys in favour of in-line controls in the earphones. At the launch of the 4G Shuffle, Jobs acknowledged that that had been a mistake, before taking the wraps off a player almost identical to its predecessor-but-one.
It's narrower, thanks to a smaller battery - physically; its runtime is longer - and entirely cased in aluminium, with a new clip design on the back that's easier to open with your fingertips but doesn't appear to be any less able to to keep the Shuffle attached to whatever it's attached to.
There's a button for VoiceOver
Be careful when clipping it: the play key no longer has a push-to-hold function, so you'll pause playback when attaching or removing the 4G.
Sponsored: Minds Mastering Machines - Call for papers now open