Philips 32PFL9705 Ambilight 32in LED backlit TV
Magic lantern?
Review Ambilight, the curious multi-coloured backlighting effect exclusive to Philips, is a remarkable thing. It doesn't suit every programme – do you really want splashes of colour on the wall around the TV when you're watching sombre announcements on the news? – but for entertainment it is an impressive, immersive addition.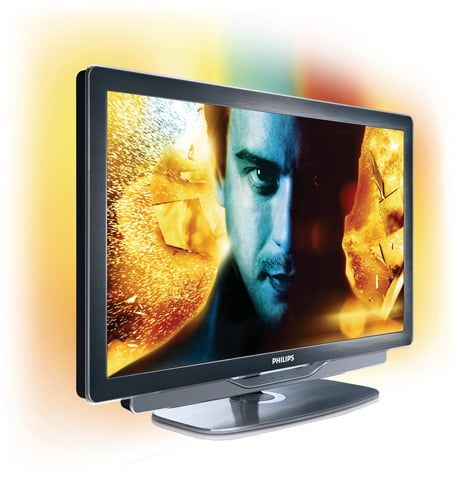 Paints a picture: Philips 32PFL9705 Ambilight TV
This new 32-incher has lots of Ambilight. Not only are there multi-coloured lights to play on the wall at the left and right of the set but the new Ambilight Spectra 3 features them on top, too. And one of the refinements of this generation is that you can set it to compensate for a yellow-with-a-hint-of-peach wall, say. So you're not limited to white behind the TV, though paisley wallpaper may still defeat it.
Despite the addition of backlighting, from the front, this screen looks like a regular LCD: dark grey frame with discreet speakers slung underneath. It's not quite as super-slim as some TVs but it complements the Ambilight with another very cool feature: locally dimmable LED backlight. This means that the thousand or so LED bulbs can be switched on and off in 224 individual zones, so black areas of the screen can be really dark. This adds to hugely impressive contrast levels.
Before we get to the picture, though, let's deal with the TV's only real disappointment, the remote. It looks great, a neat mix of matt silver and bright chrome. It's delightfully minimal and a pleasant round-edged oval shape. But it's not a pick up and play device.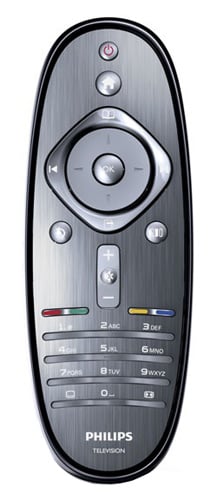 Remote learning: looks good but the layout needs time to acquainted with
There's no programme up or down button next to the volume control. The direction pad is a central button, a doughnut ring around it and a diamond beyond. You change channels by pressing the east and west points on the diamond, it turns out.
COMMENTS
How much????
I got my 47" Ambilight for £800 a few months ago - hunt around and you'll get a bargain.
1300 quid?!?!?
It had better supply sexual favours as well for that kind of money and I don't mean off the internet!
It all looks very nice
But how can they justify the £1300 price tag, for a 32" TV? That's about 4x the going rate for a 32" 1080p LED as far as I can tell. Unless I'm missing something here, you're paying a grand for a 'mood lighting' feature that you'll probably get bored of and turn off pretty quickly?
How much?!
It's a nice telly, but what on earth justifies the £1300 price tag? Philips have similar models for half that price. Are the ambilight and internet features really worth an extra £600-700? You could get a cheaper TV and a Mac Mini for that money.
£1300 for a 32" telly?
Seems a lot for pretty flashing lights to me....
There is also the argument that if you pay that much for a telly, it should not need to have the picture tweaked to get it "just right". I don't go to the cinema and demand to be able to adjust the colour balance - I expect it to be right. Same should apply to a decent telly.
I can't help feeling that people who mess around with the picture to get it "just right" are more interested in looking at the picture, rather than the movie. Bit like hi-fi buffs who listen to the sound, rather than the music.