Crash grounds RAF Eurofighters - for Battle of Britain Day!
Pilot's death sees UK defended once again by Spitfire
Posted in Science, 21st September 2010 11:52 GMT
Free whitepaper – Hands on with Hyper-V 3.0 and virtual machine movement
The RAF was left eggfaced in recent weeks as its entire force of fighters - nowadays made up of new and horrifyingly expensive Eurofighter "Typhoons" - was grounded following discovery of faults in their ejector seats. The grounding was particularly embarrassing as it came into force on Battle of Britain Day, the 70th anniversary of the RAF fighter force's greatest victory. Fortunately, Blighty was not left completely defenceless: WWII-vintage Spitfire and Hurricane fighters remained operational for flypasts and displays as their expensive successors became hangar queens.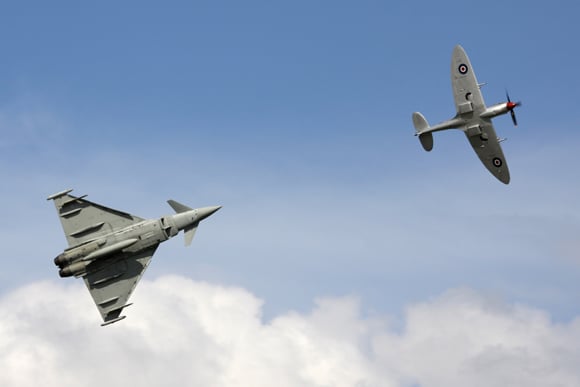 One of these is a truly impressive British fighter plane.
Flightglobal reports that the Eurofighter grounding resulted from an incident last month in which a Saudi pilot was killed after ejecting from a jet operating from Morón airbase in Spain. It's thought that a fault in the design of the Martin Baker seat meant that the Saudi's parachute separated from his harness during the ejection so that he subsequently fell to his death.
The RAF grounded its Eurofighters on September 15, the official 70th anniversary of the Battle of Britain. Pilots were warned that they would have to fly even with faulty ejection seats in the event of any hostile incursion into UK airspace, but fortunately this did not occur. Some jets have now reportedly been modified so as to allow flying to resume, with priority being given to those units providing quick-reaction alert cover for the Falklands and the southern UK - the latter being the jets which would respond in the event of a 9/11 style attack being mounted against the capital.
Other Eurofighter nations including Germany and Italy also grounded their fighters, though Germany was able to fall back on some remaining veteran F-4 Phantoms to step into the Typhoons' place. The RAF, having now stood down its preceding Tornado F3s, had no operational fighters apart from the Spitfire and Hurricane flown by the Battle of Britain Memorial Flight.
Having originally been ordered in the 1980s, the Eurofighter is made in Spanish, German, Italian and British factories. It finally began reaching squadron service with the RAF in 2007*. The UK is on track to purchase 184 Eurofighters, more than the RAF can use. Manufacturers had actually expected the MoD to buy 232 of the jets under a multinational agreement signed in the early 1990s, but Treasury legal experts consider that the programme has violated a contractual cost ceiling and as a result only 184 planes need be bought. Details of the pact are secret for reasons of "commercial confidentiality".
In previous projects which saw aircraft bought which the RAF could not use, surplus planes have simply been mothballed as soon as they were delivered - examples include the Tornado F3 and the Nimrod MR2. However in this case the UK government is keen to resell its superfluous Eurofighters at the best price obtainable, despite objections from the makers to the effect that this is likely to destroy their export market. It has already been agreed that Saudi Arabia will receive 24 Eurofighters, in a deal which would see substantial "technology transfer" - that is that Saudi Arabia will learn all the various secrets packed into the jet. UK officials have also repeatedly hinted that they may manage to shift more Eurofighters to Oman or even Japan. The MoD has never made clear what proportion, if any, of the secondhand Eurofighter sales revenue comes off the eventual bill to the UK taxpayer.
Next page: In a few weeks, we may find that the Eurofighter is not just our only fighter - but our only fast jet of any kind
Free whitepaper – Hands on with Hyper-V 3.0 and virtual machine movement