PARC turns 40: mice, money, and the new interwebs
A place whose time has come. Again
Return of ubiquity
Rather than close the door after the horse has gone, St. Claire has built a completely new stable ready for the decades ahead. But what's inside the box? It's easy to believe that PARC has already missed its one big chance in history by letting those mice scurry to Microsoft and Apple at the dawn of a PC revolution in the 1970s – a revolution now facing a mid-life crisis.
"People are like: 'Where's the next mouse?'" St. Claire says. "When you look at historical inventions, you have this wonderful 20/20 lens that lets you look back and see the evolution of a technology over 15 to 20 years. We have many of those things being developed at PARC now, and in 15 to 20 years, we'll look back and say: 'There are plenty of mice being developed at PARC today'."
PARC's founding director George Pake was told by a benevolent Xerox to create the "office of the future" in 1970 - hence the work that led to the Alto, printers and Ethernet - all of which succeeded in digitizing the workplace. But today's office is a mighty small place, and PARC is exploring a far bigger frontier now: the internet and "ubiquitous" computing.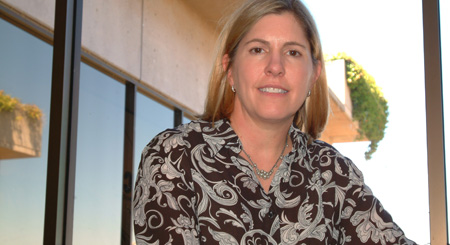 "People are like: 'Where's the next mouse?'" says St. Claire (photo by Gavin Clarke)
The lab that gave us Bob Metcalfe's Ethernet memo in 1973 is now working to re-invent the structure of the internet itself, with the creation of a peer-to-peer software architecture PARC calls the Content Centric Networking (CCN).
The goal of CCN is to reduce the load on the internet by caching content locally and directing follow-up requests to those local copies. Content could be popular web pages, music, or movies, and it could be cached on a server down the street or on the smart phone of the person sitting next to you on a plane. The idea is you and others stop returning to the same Hulu server over the same oversubscribed portion of AT&T's struggling network in downtown San Francisco to watch the Glee season finale (again).
Teresa Lunt, vice president and director of PARC's computing science laboratory, told The Reg: "The reason the user has to keep going back to the source [of the content]...is they don't have the ability to go to the closet place of where they can get it from.
"The network can get more intelligent and start anticipating your information needs, and answer you request later on... So if you're on an airplane later on, you can get the content from the guy next to you, when you don't have connection to the server."
CCN includes the ability for publishers to wrap their content in credentials so users can make sure it's authentic and to encrypt media to ensure only paying customers can see it – if they want.
CCN is certainly timely. Service providers like AT&T are now capping previously unlimited smartphone data plan, restricting what you can download each month. They do this partly because their centralized networks' aging tubes are creaking and getting clogged (to paraphrase recently deceased Alaska Senator Ted Stevens). They just can't keep up.
Ubiquitous computing is another big agenda item. The concept dates from former chief technology officer Mark Weiser, who passed away in 1999. He coined the phrase in 1988. Weiser's spirit lives on at PARC, with a shaded corner wall in PARC's concrete-maze of corridors dedicated to him. It contains photos and several mock-ups of big-screen tablets and pads.
You could argue that PARC was first to the idea in 1988. But but in 2010, it's Apple, Google, Amazon, Twitter, Facebook, and Foursquare who own the idea, and they're the ones actually making money from ubiquitous computing. There's an iPhone in every handbag, you spot growing numbers of commuters reading their iPads or Kindles on the bus to work. Netbooks have become about as regular a feature of any San Francisco café as a Venti latte no foam. People are working with productivity apps in the clouds. And they're feeding their status updates and photos into social and geo-aware network services.
Doesn't all that make computing pretty, well, ubiquitous?
Not according to Weiser's definition. Speaking as desktop PCs were taking off, Weiser saw a future where PCs would be replaced with "invisible" computers embedded in everyday objects. This would usher in an era of "calm technology" – where, rather than overwhelming us with data or the nagging sense we must be missing something buried in our Tweets, emails, and feeds, technology would "help us focus on what is really important."
With iPads, Kindles, netbooks and social networks, PARC reckons the time's come for Weiser's vision.
The sliding-doors theory
PARC wants the software on these machines to anticipate your needs without you noticing - like when you walk up to the sliding doors in at the grocery store and the doors automatically open. PARC's vision for the software running on devices is to deliver rich contextual information by collecting your data and figuring out your intentions based on things like your past online behavior or real world interactions.
Applications like Foursquare, Facebook, and Twitter are just scratching the surface. While they might be fun, they don't add a lot of value for the user, Lunt claimed. "We have a much bigger vision around contextual delivery of information to people - knowing what you are going to do next is much better than filtering out your Twitter or Facebook feeds," she said.
Sponsored: Minds Mastering Machines - Call for papers now open