Sony PlayStation Move
Wii too?
You get table tennis, frisbee golf, archery, bocce and volleyball too. Some pals and I spent some quality time with the table tennis playing two-player mode, loving the flaming balls! But the other four games didn't really hold our attention.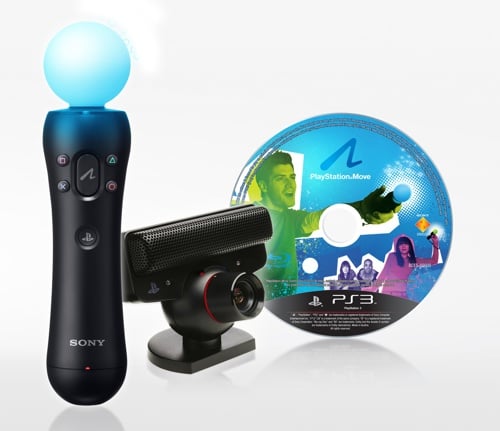 The Starter Pack will get you Moving
As I say, though, this is just the beginning. Wii Sports has its moments, but you'll quickly move on to new titles, and that will happen with Move too. There a plenty of good-looking games on the way, as the game release schedule shows.
Back to the freebies, and I'm glad I'd had a few and put The Prodigy on the hi-fi just before playing Start the Party! Squashing bugs and cutting hair wouldn't be half as absorbing - or as hysterical - stone cold sober. I liked the silly graphics and cute creatures, but my housemate compared it to some unexpectedly short unsatisfying back street bonk, so shame it's for the whole family.
Verdict
I thought that no one would get excited over something so close to the Wii as Move, but it actually manages to deliver something new. Everyone I called to come round and have a go was dead keen. The consensus among them was that once we get some blockbuster releases, Move will be well worth a play. It's a must for PS3 owners, and for more casual gamers looking for the HD graphics and content the Wii can't deliver.
The question is, will Move kick Microsoft's fast approaching no-controller Kinect - or be beaten just as it itself knocks the Wii into the shade?
I can see the Playstation's future, and it glows. Now, Nintendo, Move aside. ®

Sony PlayStation Move
Super-fast and über-accurate motion control gaming comes to the PlayStation 3
Price:
Starter Pack: £50. Motion controller: £35. Navigation controller: £25. PlayStation Eye: £25 RRP