Jailbreaker alert: Apple TV runs iOS
Future living room flatulence?
The word is out: Steve Jobs' hobby, the Apple TV, runs iOS — which is an interesting revelation for both jailbreakers and productization prognosticators.
This news comes from The Unofficial Apple Weblog, TUAW, which reports that an unnamed tipster has discovered a configuration descriptor in the recently released iOS 4.1 beta that clearly identifies the Apple TV as the mysterious "iProd" — a descriptor that was previously used to identify the iPad before its release.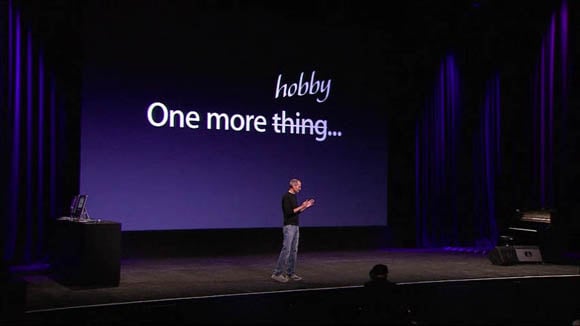 Every busy executive should have a hobby — Steve Jobs' leisure pursuit is the Apple TV
When Jobs announced the Apple TV back on September 1, he made no mention of what operating system was powering his cloudy hobby. The interface he demoed at the roll-out event was similar to that used by the original — and arguable unsuccessful — first-generation Apple TV, and bore no resemblance to the SpringBoard UI that graces the iPhone/Pad/Pod.
But if TUAW's source is correct, the Apple TV UI is simply an app running on top of iOS 4.2 — and if the history of iOS is any guide, enterprising hackers should be able to jailbreak the Jobsian hobby box soon after its release at the end of this month.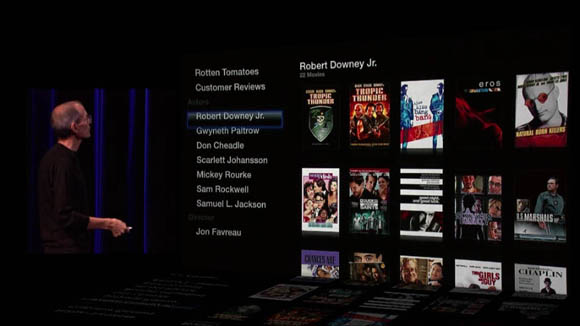 The Apple TV's UI doesn't look like the one used by iPhone/Pad/Pod — but there's no reason why it should
The question, of course, is: "So what?" Although jailbreaking the Apple TV might enable you, for example, to slip another UI beneath the Apple TV's media-management app — a version of PogoPlank, possibly? — whether that UI could control any additional apps is unclear.
Since the Apple TV is designed for streaming, not local storage, and since the relatively low price tag ($99 in the US) points to relatively low — if any — storage capabilities beyond that needed for boot routines and OS, odds are there won't be much room for jailbreakers to play in.
But if the Apple TV runs iOS — and the concomitant probability that it's powered by the same A4 processor that's in the iPad and the latest versions of the iPhone and iPod touch — there's the interesting possibility that what Jobs demoed on September 1 is not a second-generation Apple TV, but a first-generation living-room invasion that'll eventually play games, browse the web, run productivity apps, and, yes, even fart. ®
Sponsored: RAID: End of an era?