GoPro HD Hero camera
Water sports action star
The HD Hero is reasonably discreet and, surprisingly, any extra weight was barely noticeable. With just two buttons and a small LCD display, configuring is kept purposefully simple. No zoom, no tricky ISO settings to fiddle with, just a variety of resolutions (four plus an extra 60fps version for super-slow playback) and 5Mp stills.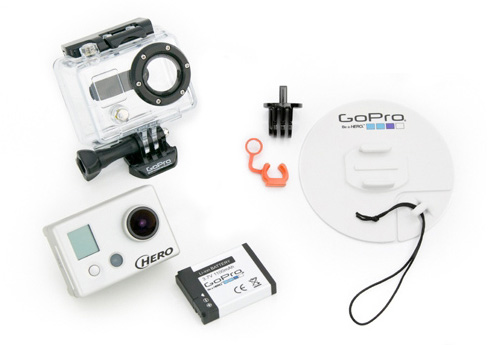 Surfing attachments
Conveniently, the camera can take stills at set intervals, up to a 60-second gap, or a simple 3-shot burst. While the GoPro is never going to be a camera buff's best friend, the lack of options is an absolute pleasure when scrabbling around in the ocean trying to change modes.
Whatever your activity, a simple button-press sets the camera recording (or snapping) with a useful beep. One more press to stop and the LCD screen displays the number of files now stored on your SD card.
The Helmet version's mounting kit
With no viewfinder as standard, there's something of the old 'wait and see' magic of film here – scoping out your yield of footage is immense fun. Both images and videos are better defined than I had initially expected – clear, lucid colours, and underwater footage of surprising clarity.