What Nokia (and everyone else) needs to learn about smartphones
Lessons from Star Trek
The mid-Noughties crisis: nobody wants a smartphone
It took an almighty crash for the leading phone manufacturers to readdress the problem, and when they realigned, it was in the interests of their biggest customers, the operators. What happened was that the intense focus on smartphones between 2000 and 2003 hadn't paid off.
The rollout of GPRS and 3G networks had been behind schedule, which negated the advantage of a phone being "smart". And while it poured billions into multimedia and enterprise device development on Symbian, Nokia neglected its more humble feature phones. The result was a dramatic collapse in market share , ten percentage points in some markets. Nokia steadied the boat, focussed on making these midrange handsets (like the 6230) desirable, and made sure it never made the same mistake again – the feature phones are its bedrock today.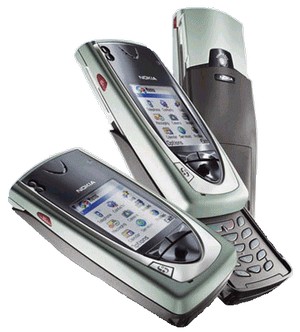 Nokia's first mass market smartphone, the 7650 from 2002
The networks weren't ready, so there wasn't much you could do with it.
But the resulting realignment saw the original idea of a sophisticated converged data device take a back seat. Sony Ericsson and Nokia abandoned the rich data-centric UIs they had developed and concentrated on smartphones optimised for one-handed use.
In a bonfire of the UIs, Nokia ditched two platforms within a year: it would no longer maintain the S80 Communicator, nor would it develop the touch screen capable S90, that was its designated successor. Microsoft and a host of others filled the gap with Windows Mobile devices aimed at vertical markets and tech enthusiasts, that in truth didn't do either very well.
There was a huge hole in the portfolios of the leading companies when Apple announced the iPhone. And Apple, along with RIM, today scoop up almost all of the profits made by anyone making high-end devices – and more than half of the profits the mobile handset industry makes.
The reasons for this are numerous and varied - but the overriding one I think is that both RIM and Apple made the sticker shock go away. Both bundled a data plan with the device. And this was the biggest breakthrough in the history of the smartphone.
This looks so obvious now to an outsider that a Martian would wonder why we obsess about "platforms" and chip speeds and megapixels so much. Whether somebody is using a phone primarily as a phone, or mostly as a data device with a bit of phone thrown in, the bundling remains key factor to its success. It doesn't guarantee success, but it provides the vendor with a huge advantage.
You knew that once you'd got either device, you wouldn't get a nasty surprise for actually using it. RIM went a step further, and with capped roaming charges overseas. Lo and behold, people actually starting using iPhones and BlackBerrys for something other than phone calls. People bought them. Amazing, innit?
To be surprised that people don't flock to mobile data without this kind of assurance is like imagining the teabag wouldn't be invented. But all things look obvious in hindsight.
Old-fashioned sales just aren't enough
RIM and Apple got away with it at a time when the operators were desperate that somebody might come along and use their networks. They'd got into debt equipping their networks with data capacity and buying licenses, but nobody was using them for data.
I'm reliably informed that Apple even extracted a revenue share from the operators when the iPhone first launched – the networks were paying somebody else to come along and use their infrastructure. But the punter who got either device got something new: an insurance policy against penalties for using the device as the maker intended it to be used.
Now the problem for Nokia – and everyone else – is whether they can come to some sort of similar arrangement. Given Nokia's inclination to partner, and not to upset the networks, it could go either way. The history of the past five years has rightly seen the UX put in its proper place. But creating data bundles for its users – whether they're in France or India – seems to be far more important to me than just flinging more phones or services at the market.
This isn't going to be easy for Nokia, or anybody else; the same dilemma faces Samsung, Motorola and HTC, all handset manufacturers which basically sell their proposition on the basis of megapixels and megahertz. You may argue it will be harder for these manufacturers to come up with bundles, since they don't have Nokia's reach or influence.
But it augers a fundamental realignment of the industry, traditionally with operators over here, buying phones from device manufacturers over there. It's one that neither side will be comfortable with. But unless they want to be stranded, they'd better come up with something. ®
Bootnote
Not being a Trekkie (honest) I have no idea whether Gene Roddenberry envisaged whether 23rd century humans used teabags or loose tea. Perhaps it was tele-transported from the plantation instantly, and brewed nicely along the way. No doubt you will tell me.
Sponsored: Minds Mastering Machines - Call for papers now open