PARIS emerges triumphant from hypobaric chamber
Vulture 1's Mk 2 release mechanism cleared for take-off
After half an hour of fiddling, we stuck the whole assembly in the hypobaric chamber. In the spirit of garden shed boffinry, it's supporting a test weight of 500 grammes of alumimium oxide grit in a plastic milk carton: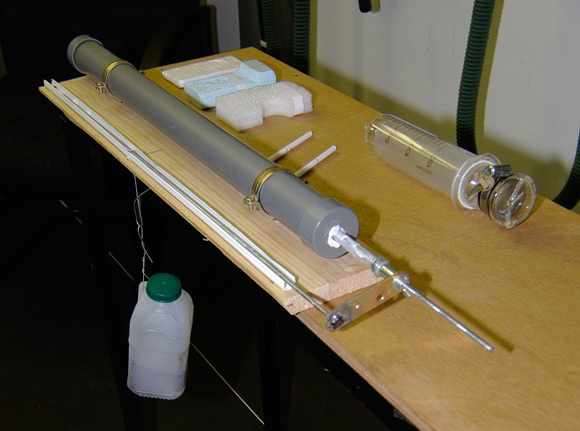 You'll note a few extra bits and pieces sharing the table. At top centre, you can see three chunks of test foam: polystyrene, styrofoam and coarse packing foam.
They're in there to see if, as several of you predicted, they will expand at altitude. We glued a strip of paper round each to have physical evidence of any bloating. Styrofoam is an essential mission material, since it houses the Vulture 1 GPS/APRS unit, and our main payload box is entirely made of the stuff.
Below the foam are two lengths of paper straw, each sealed at boths ends with glue, but one enjoying the benefit of a tiny vent hole in its length, made with a needle.
Finally, we've got our Mk 1 mechanism. Suspicions were that it didn't work because air was seeping between the surface of the ground glass plunger and the inside of the syringe. To find out, we slapped some of the low-temperature grease on the plunger.
And now the big moment. Did the Mk 2 mechanism work? Did the greased Mk 1 shake its bootie? Did the styrofoam bloat like Vanessa Feltz at an all-you-can-eat buffet? Did the unvented straw go bang?
Only one man could answer these questions: Chas Taylor at the controls...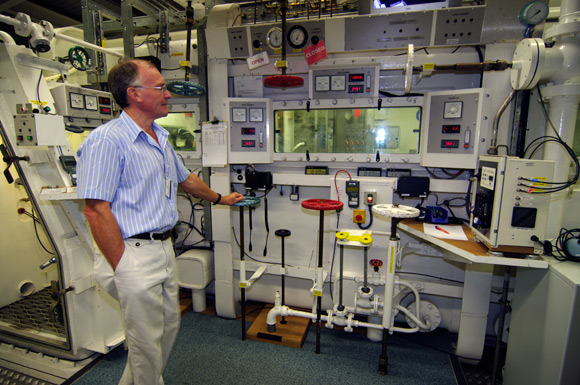 And the answers to these questions are: yes, no, no and no, respectively.
Sponsored: Minds Mastering Machines - Call for papers now open