RIM BlackBerry Curve 3G 9300
Straight talking?
Review RIM has been busy refreshing its range of smartphones lately. The BlackBerry Pearl received a 3G update and new keyboard and the series, Curve has had a makeover too. The Curve 3G 9300 offers HSDPA 3G, Wi-Fi, GPS, a 2Mp camera, a Qwerty keyboard and all RIM's messaging know-how, at a budget price.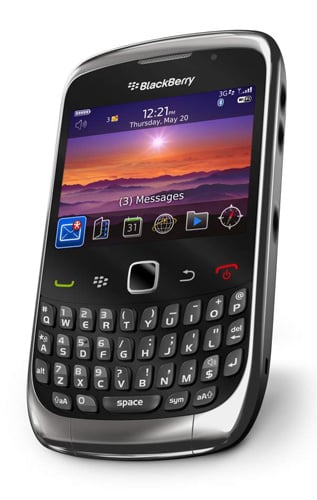 Keyboard skills: RIM's BlackBerry Curve 3G 9300
The Curve 3G styling fits in with other recent BlackBerry reboots, with that rubberised plastic casing and chrome-look trim, albeit in a fairly chunky 109 x 60 x 14mm and 104g package. The 2.4in screen sits above the, now-essential, optical trackpad surrounded by a touch-sensitive strip of call start and stop buttons, plus back and menu.
Below this array is the solidly constructed Qwerty keyboard with 35 keys. The keys are well spaced but small, and while it has the unique BlackBerry angling system, which raises the keys at one end makes each key feel distinctive, you'll still probably find yourself pressing them with the tip of your thumb rather than the fleshy part, which is fine for one-handed use, but can be a pain when you're trying to use two thumbs.
The TFT screen isn't up there with the higher end BlackBerry models, offering a relatively low resolution of 320 x 240 pixels. It's not as sharp as some others in the RIM's cannon and the colours aren't quite as vibrant, but for a screen this size it's more than adequate.
Around the sides are the customisable voice dialling button, volume buttons, camera shutter, micro USB power/sync slot and 3.5mm headphone jack. On top there are media player controls – not touch-sensitive ones like the higher-end Pearl 3G though – these are less sexy, but equally effective hard buttons.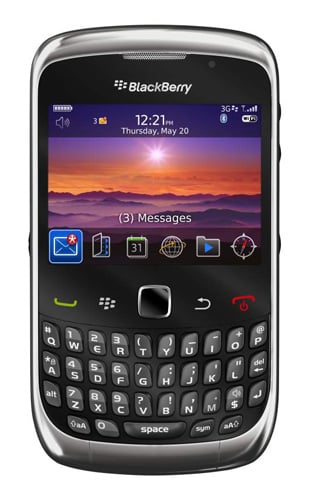 Trackball out, trackpad in
The optical trackpad has been slightly raised and you can click it to activate whatever function it alights on. Like the trackpad, on other BlackBerrys you can also adjust the sensitivity to suit your preferred thumb pressure.
COMMENTS
RIM artillery
Firing Blackberries out of a cannon would make a terrible mess, although I'm glad to hear they have a use after all.
Maybe yours is a duff one?
I never have any trouble with the WiFi on my Bold 9700, so maybe you've got a duff BlackBerry? Have you tried switching it off and on again? ;-)
Probably defective unit?
I have had no problems with my WiFi on both the ole Bold 9000 and the 9700. Ditto with the 8220 (PearlFlip); the one thing that I did get annoyed with is the behavior in 4.6 where it won't stick to one SSID, so if I have 'monkeynet' and 'dorknet' in range, it will jump between these networks unless I disable one of those networks. BB 5.0 fixes this by adding a "select only one network" option, which eliminates this problem.
WiFi
I hope the bods at RIM have done something about their WiFi, as on my work-supplied Curve 8900 it's virtually useless. Whilst it will claim that it's grabbed an IP from my router after a minute or so any WiFi usage goes straight out of the window and more often than not the WiFi connectivity has to be stopped and started before it'll work. Though nowadays I just can't be bothered to use WiFi on it at all. I've upgraded the OS to 5, no joy, and all the other WiFi devices in the house work fine. Bit of a pity as that aside it's not bad.