Tom Clancy's Hawx 2
Flight to the death
Va va voom?
Talking of insane manoeuvres, Hawx 2 has a penchant for stalling, which sees you stall at low speeds irrespective of attitude. It's bad enough when the plane is horizontal, at a zero-degree critical angle of attack, but its unforgivable when the nose is down and the critical angle of attack is negative. This basic misunderstanding of stall dynamics means the ground is often the game's deadliest foe, especially during air-to-ground combat, where low-level flying is required.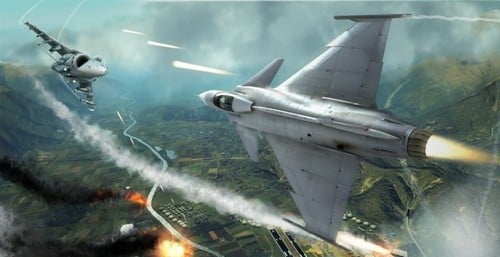 Rocket off, shooting sideways
It's not Hawx 2's only unintended loss of thrust. The game regularly stalls in its side missions, in which you man UAV drones and AC-130 gunships. A direct rip-off from Modern Warfare and other military FPSs, the missions are enjoyable enough in isolation, but they are overused throughout the 12-hour single player campaign, and the point-and-click mechanic of high altitude precision striking soon becomes tedious.
In a last ditch effort to retain interest, the game throws a few other novelties at you, such as clearing sea minefields to allow safe passage for naval cruisers, flying past large radio antennas to look for signs of tampering and, best of all, taking down multiple nuclear ICBMs before they reach escape velocity. But arriving towards the end of the game, these additional elements, although welcome, will arrive too late for most players.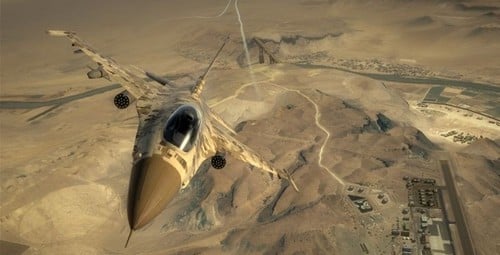 This game may, ironically, fail to take off
Verdict
The real disappointment of Hawx 2 is not the near homogeneousness of its aircraft, or the overuse of point-and-click side missions. It's not even that it fails to improve upon the original. The real disappointment is that Ubisoft has, like so many developers before it, crashed and burned in disproving one of gaming's enduring ironies: that flying a $150m F22-Raptor in combat against multiple enemies is neither exhilarating nor fun.
More Games Reviews

Mafia
II
Kane & Lynch 2:
Dog Days
Lara Croft and the
Guardian of Light
Monday Night
Combat

Tom Clancy's Hawx 2
A poor attempt to push the envelope of modern air combat games. Available on PS3 (tested), Xbox 360 and PC.