Tom Clancy's Hawx 2
Flight to the death
Patriotic Game
Reading like the draft script for a Team America: World Police sequel, the plot sees the Hawx team combating that ultra fashionable, faceless triumvirate of catch-all enemies: insurgents, terrorists and separatists. With an unexplained rediscovered sense of patriotism, the Hawx team are now back flying with their respective national air forces, combating an enemy that is hell-bent on destabilising Russia.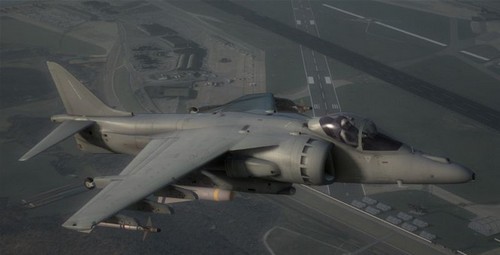 Dunno how to fly, I'll just have to wing it
With more holes than a Chilean mineshaft, it's a plot that leaves you scratching your head for hours on end, wondering how a small band of separatists (that are all but annihilated in one of the opening levels) can bombard your plane with city-wide flak and afford to send up hundreds of well-trained pilots flying the world's most expensive military aircraft. In fact, I calculated I had shot down some $20bn worth of aircraft before the plot eventually stabilised into a more plausible – at least by Clancy's standards – dissident ultra-nationalist coup d'état against the pro-Western Russian presidency.
As preposterous as it may be, the plot serves to place you in the cockpit of - and in direct combat with - the world's most advanced jet fighters. But even here, Ubisoft fails in believability. Apart from accurate models and cockpits, and varied weapon loadouts, aircraft are practically indistinguishable.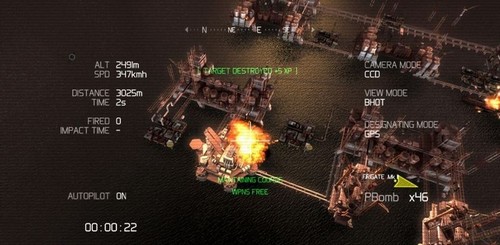 Got the whole place on lock-down
The American F-X planes, Migs, Eurofighters and even Sukhois are stripped of their individuality, and all perform similarly . The Harrier GR9 even seems to have forgotten its V/STOL button, choosing instead to land in regular fashion on the British aircraft carrier. Worse still, the newer, supermanoeuvrable SU-30MKI, SU-35BM, SU-47 and F22 Raptor planes have all inexplicably had their vector thrusting disabled, so you can forget extreme agility at higher velocities, let alone pulling of a Pugachev's Cobra.