Cisco adds slim blade with fat memory to UCS
Virts up security and WAN optimization appliances
Posted in Servers , 14th September 2010 16:14 GMT
Free whitepaper – Hands on with Hyper-V 3.0 and virtual machine movement
Switching to switching now
The upgrade cycle on Cisco's Nexus family of switches, which allow for Fibre Channel storage protocols to be run over 10 Gigabit Ethernet, begins today, too. The new Nexus 5548P top-of-rack switch has 48 ports in a 1U chassis, nearly double that of the Nexus 5510 switches it replaces in the lineup. The Nexus 5548P has 32 fixed 10 Gigabit Ethernet ports and 16 optional expansion ports; in the initial configurations of the new switch, the expansion modules that plug into these ports will come in two flavors: one with 16 10GE ports and another with eight 10 GE ports plus eight Fibre Channel expansion ports.
The Nexus 5010 and 5020 switches are still going to be sold by Cisco, by the way. The 5020 is a 2U machine with 16 fixed 10 GE ports plus expansion modules plus expansion modules that support a dozen 10 GE ports or 16 FC ports; the 5010 is a 1U 28-port switch that has 20 fixed 10 GE ports and one expansion module sporting a mix of 10 GE and FC ports.
In addition to being more compact, the Nexus 5548P switch is a faster switch, with a port-to-port hop of about 2 microseconds, compared to the 3.2 microseconds for the Nexus 5000 switches. The machine has 960 Gb/sec of fabric throughput and can support 4,096 virtual LANs and up to 32,000 MAC addresses. The Nexus 5548P is also upgradeable to 40 Gigabit Ethernet.
According to Cisco documents, the company is working on a 2U, 96-port switch called the Nexus 5596UP, which was not announced today and which Cisco probably did not want to disclose. This switch will have twice as many ports and twice as much fabric bandwidth, but the same VLAN and MAC address limits as the 5548P.
The Nexus 5548P will be available in October and will have a software upgrade that will allow it to handle Layer 3 network traffic and support the FabricPath traffic optimization and network-flattening software that debuted back in June along with new switch modules for its Nexus 7000 end-of-row converged Ethernet core switches. The Nexus 5548P has half as many management points as the prior Nexus 5000 devices and uses 40 per cent less power per port as well.
Prices for the Nexus 5548P switch were not announced.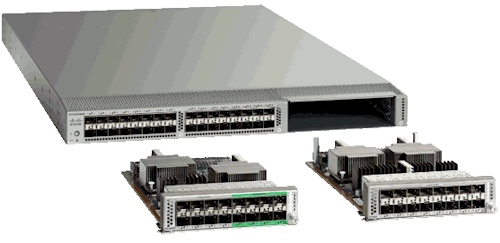 The real Cisco Nexus 5548P switch is not this fuzzy, but Cisco's graphics are.
In other networking tweaks, Cisco announced two new fabric extenders for its converged switch family, the Nexus 2248TP for the Nexus 7000 core switch and the Nexus 2224TP for the Nexus 5000 top-of-rack switches. The 2248TP has 48 Gigabit Ethernet ports and four 10 Gigabit ports, while the 2224TP has half that. The Nexus 1000V virtual switch software for VMware's ESX Server hypervisor and used in the UCS system has been revved to the 1.4 release, with the predictable scalability and performance boosts, too.
Finally, Cisco has taken the code behind its hardware-based WAN optimization appliances and packaged it up to run inside of a VMware ESX Server virtual machine. The Cisco Virtual WAAS will be available in the fourth quarter and will run in conjunction with the Nexus 1000V virtual switch and integrate into the vPath dynamic packet steering code for its hard and soft switches.
The Virtual WAAS appliance is being billed as the first "cloud ready" WAN Optimization, something that rival Citrix Systems would no doubt disagree with.
Cisco is also announcing another virtual appliance called the Virtual Security Gateway, which is based on a shiny new set of code. It is, in essence, a firewall for the Nexus 1000V virtual switch that runs inside the ESX Server virtual machines on UCS boxes.
Cisco sells hardware-based firewalls, of course, but a new codebase was required for this virtual appliance to understand networks at the VM level and have firewall settings follow VMs around as they bounce around physical hardware within the UCS system. The Virtual Security Gateway integrates with the vPath packet steering software as well.
These two virtual appliances are the first of what probably will be many from Cisco, which is lumping them together under the umbrella brand of Unified Network Services. ®
Free whitepaper – Hands on with Hyper-V 3.0 and virtual machine movement