Cyberlink v. Nero media authoring suites
Taste the difference
Image editing
After selecting an image in Nero MediaHub, clicking on the Edit button opens that image file in an adjustment mode. Here you can click on function buttons along the bottom of the window: Auto Enhance (seems to do nothing), Red Eye Removal, Modify and Crop.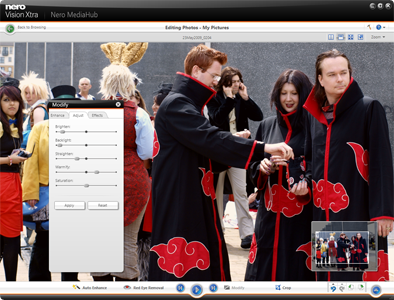 Nero MediaHub has some image correction features built-in, but they are extremely basic
Click for a larger image
The Modify button calls up a floating palette containing automatic enhancement functions (they don't do very much either), some adjustment sliders and the usual array of effects such as Sepia and Sharpen. Overall, these features feel basic and underpowered, as if users can't be trusted with anything better. You can't control the visual effects – only turn them on or off. Moreover, 'Warmify', the name of one of the adjustments, suggests Nero's image editing functions here are aimed at dimwits.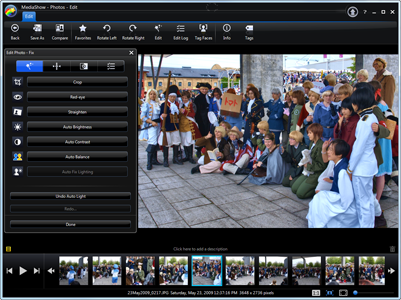 Cyberlink MediaShow presents a good range of effective image enhancement functions
Click for a larger image
Choosing an image in Cyberlink's MediaShow and clicking on Edit causes the interface to revolve in 3D. Very clever, except the program assumes I want to create a slideshow. Another click provokes another swirl through 3D space and finally I can start enhancing the photo.
You get a set of automatic correction buttons, which actually work quite well, plus tabs for Fine Tune sliders and some effects (sepia, vignette, etc) that, like Nero's, cannot be adjusted. One nice touch is the Log, which lists all the edits you have applied so far so that you can undo them sequentially by name.
Audio editing
Cyberlink Media Suite comes with a relatively basic but easy-to-use set of audio utilities. There's Audio CD Ripper, Audio File Converter and the disc-burning program Power2Go has audio disc authoring functions. Far more interesting is Cyberlink WaveEditor, a reasonably user-friendly program for cropping, adjusting and applying effects to audio files. It has a clean interface with big buttons for cutting, pasting, cropping, bookmarking and even switching to a microphone or line-in input to make a new recording.
To the left of the wave window is an Effects panel that calls up a range of options with undemanding names, such as Equalizer, Noise Reduction and Reverb. These in turn open little floating slider palettes, but you can have only one open at a time. The program supports VST plug-ins, as does Nero's alternative.
Sponsored: Minds Mastering Machines - Call for papers now open