Cyberlink v. Nero media authoring suites
Taste the difference
Cyberlink MediaShow is a multifunctional program that incorporates file management and image editing. The browser looks lovely, with a sensible black background and nice, big command buttons and scalable thumbnails. It suffers, however, from slow response while scrolling and clicking on certain parts of the interface.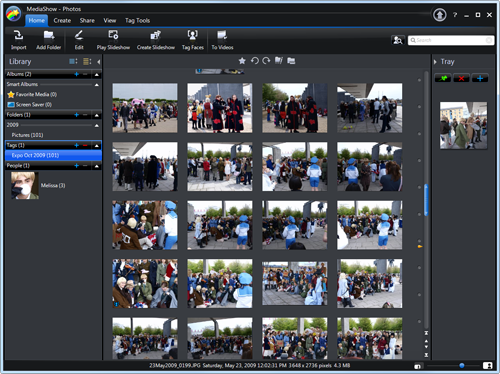 Cyberlink MediaShow: black is the ideal background colour for browsing media files
Click for a larger image
Unlike Nero's file browser, Cyberlink's equivalent makes it possible to add your own metadata tags. It even includes face-recognition technology, allowing you to put name tags to individual faces. Although far from faultless – recognising fists as faces – it's still a valuable feature in modern image management and Cyberlink's implementation is very easy to use. A Share button lets you send media files straight to email, Facebook and Flickr, although the Order Prints function only works with print suppliers in the US and Japan.
Video Editing
Cyberlink PowerDirector is a smart looking video editing program with big task tabs at the top (Capture, Edit, Produce and Create Disc) and large command buttons down the side which, although friendly to look at, don't describe what they do. Thank goodness for tooltips.
Consumer video editing programs often perform sluggishly, but PowerDirector is quite responsive except when adjusting the main movie and PiP (picture-in-picture) track, which invariably causes everything to freeze for several seconds. There is only one master video track, for some reason, forcing you to use the PiP track to handle overlapping transitions from one clip to another. The transitions, just like the 'special' effects and clip art, are hideous as expected from a home-user product. You can add separate background music and narration tracks.
PowerDirector's Produce tab is brilliant, making it very simple to pick video formats without having to understand codecs, and to upload your work directly to YouTube and Facebook. You can also share your work online with other PowerDirector users at a site called DirectorZone. I found it a bit annoying that the videos I had added to MediaShow earlier did not appear in PowerDirector – I had to go find them again. It was also unfortunate that the program did not support any of my hundreds of QuickTime DV clips.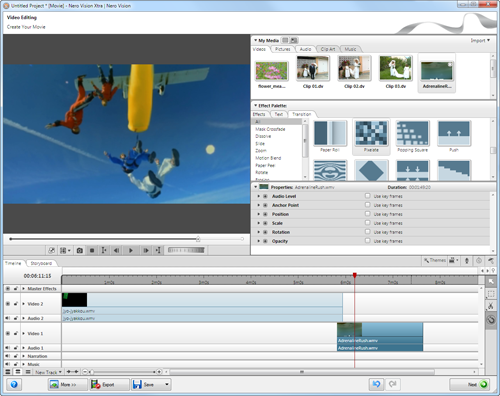 Nero Vision Xtra offers a sensible way to handle two simultaneous video tracks
Click for a larger image
Nero's video editing package is Vision Xtra, which sports a very clean interface with the preview panel on the left and an arrangement of media, effects and properties panels on the right. Vision Xtra sensibly provides two video tracks for overlapping clips, plus separate music and narration tracks. Scrubbing response is good with the curious exception of the Jog/Shuttle control, which is extremely jerky to use. The program also had no problem at all in supporting my QuickTime DV clips. Inevitably, the transitions, visual effects, frame clip art and silly animated titles are all ugly. A separate utility, Nero Recode, converts non-protected DVD movies to formats for other devices, such as mobile phones. Cyberlink offers a similar feature within MediaShow.
Sponsored: Minds Mastering Machines - Call for papers now open