Post Office complaints: Write to M.BARRASS
Special delivery recipient prompts red faces
The El Reg Bootnotes soviet was tickled late last week by the entertaining tale of reader "Frank", who got in touch about a letter of complaint he wrote to the Post Office regarding its broadband service.
We won't bore you with the details* of the scrap between Frank and the PO, but suffice it to say the former fired off an indignant special delivery missive to "The Managing Director, PO Telecoms, Bridge Court, The Close, Newcastle upon Tyne, NE1 3BA".
The next day, this is what Frank found on the Post Office's handy "Track & Trace" service: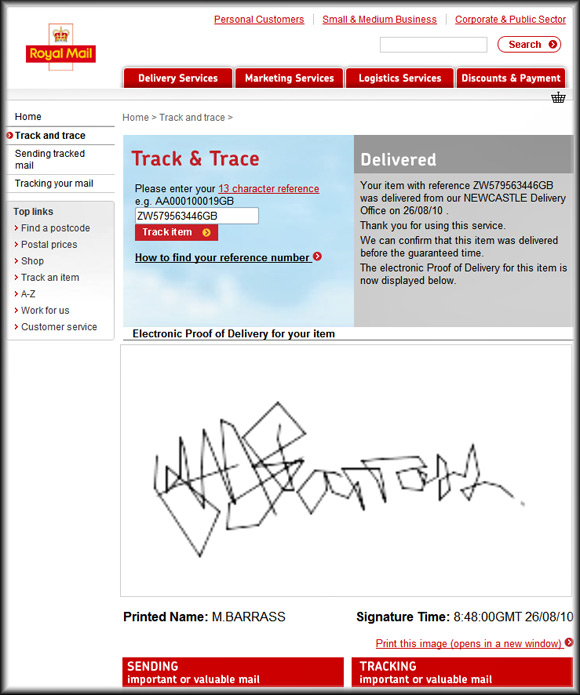 Good Lord. Frank says he then called PO Homephone and asked to be connected to said M. Barrass, only to be told that "no such person worked for them".
Frank finally got in touch with Nancy Saunders, Head of (PO) Telecoms Regulations, who he reckons expressed her horror at the signature outrage.
We got in touch with Ms Saunders too, asking for an explanation. She curtly teased: "We'll be responding to Mr. [XXXXX] by the 15th of this month on his entire complaint including who signed for his letter." ®
Bootnote
* Because life is too short, trust us.
Sponsored: Minds Mastering Machines - Call for papers now open