Budget DSLR Cameras
Five sharp shooters for budding Baileys
Group Test If we at Reg Hardware made DSLRs, we'd be looking nervously over our shoulders, as compact cameras have never been so good. The rise of APS-C EVIL (Electronic Viewfinder, Interchangeable Lens) cameras, such as the Sony NEX models, promises DSLR-quality without the bulk to carry around. Size matters and Canon now appears to be considering a compact DSLR – whether we're headed for a new take on Pentax's Auto 110 SLR film camera remains to be seen.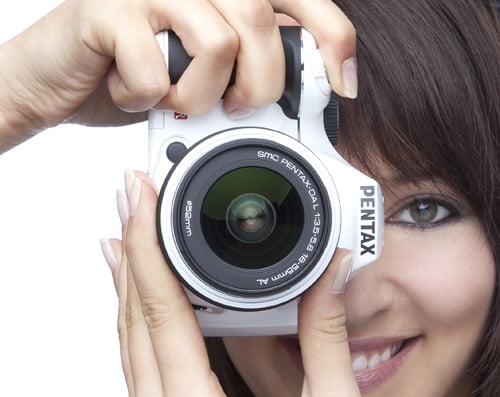 While professional DSLRs aren't exactly in dire straits, it is very competitive in the lower reaches of the market. Indeed, with many budget DSLRs yet to offer niceties such as HD video recording, or even live view modes, you could be excused for wondering why you'd consider one in the first place.
Yet there are plenty of reasons for aspiring photographers to stick with the format. For one thing, DSLRs have proper optical viewfinders, giving focus an accuracy that's missing from many electronic viewfinder cameras. Every DSLR you can buy uses phase detection for autofocus – light-years ahead of the contrast detection system used by compacts in terms of both speed and accuracy.
And, while a few EVIL cameras, and even compacts such as the Sigma DP-2, are beginning to offer APS-C sensors, it's rare to see a compact or EVIL camera offering any more than a thumbnail-sized sensor. For now, at least, DSLRs continue to offer the best options in terms of image quality and expandability.
To help you decide whether a budget DSLR is the right camera for you, we've brought together a Buyer's Guide to take you through the pros - and cons - of the category.
Which of these models, if any, will win a Reg Hardware Recommended and Editor's Choice awards? Find out when you review the results of our tests and read our conclusions at the end of the round-up.
Budget DSLR Camera Group Test
COMMENTS
budget?
whose budget did you take into account when proclaiming these cameras to be "budget" ?
£500 is not exactly 'budget'
Lumix FZ45
Got one last week, went to a wedding, managed to get over a thousand photos in focus, despite (or perhaps because of) being totally pissed.
Utterly amazing camera. £280. You can even turn off the flash and photo your wife asleep in the dark, should you be a complete deviant.
I can't see any point in spending any more money than this after what it did.
APS-C vs Four Thirds
The imaging area of four thirds is 17.3 mm x 13.0 mm = 224.9 mm².
The imaging area of Sony style APS-C sensors is 23.6 mm x 15.8 mm = 372.9 mm², or 66% larger than 4/3. Even if you're only talking linear dimensions it's still 29% on average. The maths isn't that hard.
My thumbnail's bigger than four thirds, and I just trimmed it.
Sensor sizes
So, which EVIL (like the acronym, btw!) only have a thumbnail sized sensor?
Pretty much every EVIL camera I've seen as a MFT camera or Sony NEX. The former use a 4:3 sensor that's only 11% smaller (IIRC) than an APS-C. The Sony uses the aforementioned APS-C sensor (but ruins things with a Big Ears & Noddy UI). Now, unless you're a giant, I'd hardly call this thumbnail sized.
There are some oddities out there such as the Ricoh GXR. But this has an interchangeable lens and sensor, so the latter can vary according to the lens.
Personally, If I was on a budget, I'd need some real convincing not to look beyond the Lumix G2 and GF1 cameras.