Canon EOS 1000D
Review Canon has left no corner of the saturated DSLR market untouched, which certainly has a knock-on effect for potential buyers of the 10.1Mp EOS 1000D. While its 2.5in LCD screen feels cramped by modern standards, and its all-plastic construction does make it feel cheap compared to the Nikon D3000, it is, however, compatible with every extender, Speedlite and lens Canon makes – and that's a huge range.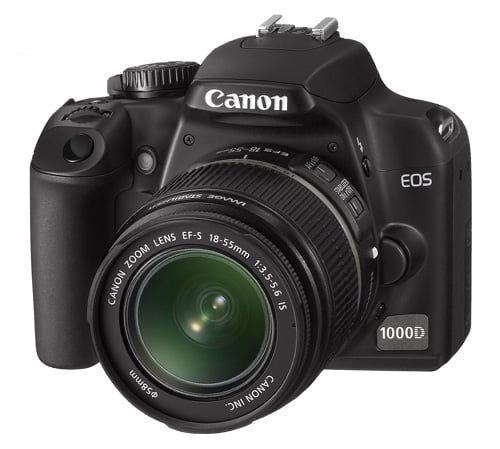 At low ISO settings, telling the cameras apart by image quality is an exercise in splitting hairs, but at ISO 800 and above the 1000D really shines. Noise is minimal and test images remain sharp. Indeed, the 1000D returned usable images at ISO 1600, begging the question: why it doesn't support even higher sensitivities?
Canon's marketing bumpf claims the 1000D can manage up to 3fps – it actually ran very slightly faster – 3.2fps when measured against a stopwatch. The amount of buffer on offer appeared to vary though, with 14 being the largest number of frames captured in a single burst and five the lowest. Switching to RAW not only reduces the amount of buffer available to just three frames, but also caused the 1000D to run around a third slower, at 2.2fps.
Despite the small size and rather plasticky build, the 1000D sits nicely in the hand. It's undeniably small, which isn't necessarily a bad thing, but Canon has shoehorned in a decent array of buttons. Metering, autofocus and the continuous/self-timer modes are all controlled by the navpad on the back.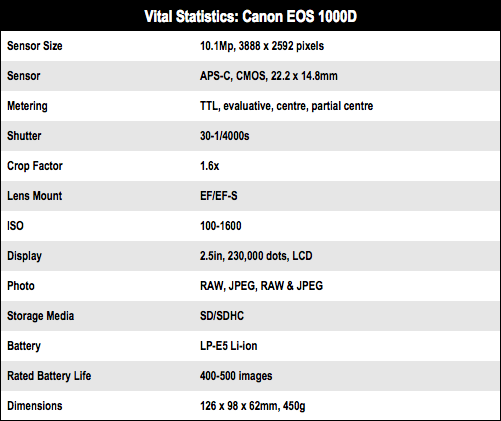 COMMENTS
It's the lens
The problem was not your camera, but that old 18-55mm non-IS kit lens was terrible. Looks like they've updated the kit to include the 18-55 IS version which is much much sharper.
If your friends shoot Nikon though it makes sense to go with Nikon as you can share lenses and accessories much more easily!
I'll stick with what I've already got
I've had my EOS D30 for 9 years now, it's still going strong and I'm happy with it. I'll only replace it when it finally dies - when ever that happens.
Gone through a few batteries - but the original Canon original is the one that's still perfectly fine.
It's only 3MP and can't handle CompactFlash cards over 1Gb but the old adage 'if its not broke don't fix it' applies - plus the fact it cost me £2K in 2001 may be a factor, that a lot of the newer versions now cost a lot less does piss me off when I see them..
Oh well...
meh
I had an EOS 1000D, with the kit lens. It seemed *really* soft, so I printed out a test chart. It was nowhere near nyquist, even in the middle of the aperture range- no wonder it felt like shooting through soup.
Luckily, because I bought it online, I was able to return it under the distance selling regs. Got a D3000, and am really impressed, for the price. I added the 16-85mm ED VR lens later (a friend was selling one for cheap), and now it's a monster.
Nice roundup though- I always forget about that little Oly.