EMC hints at mid-range storage system
NX3e - e for exciting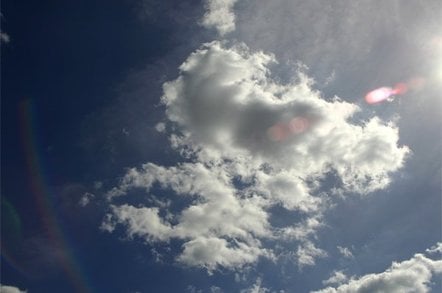 EMC has signalled that a new mid-range storage system is coming - a low-end one in the $10,000-$75,000 area. We reckon it's the Celerra NX3e, and we're spilling the beans here.
The Cellerra range starts with the NX4. This has one or two X-Blade controllers, with two processors per X-Blade, and up to 60 disk drives. It has up to 32TB usable capacity - that's 16TB per X-Blade. This model is accompanied by progressively larger capacity products: the NS-120 with 120 drives; the NS-480 with up to 480 drives and two or four X-Blades; and the NS-960 with up to 960 drives and two, four or eight X-Blades.
All these systems use either fast SAS or slower but more capacious 1TB SATA drives and offer file access via NFS or CIFS and block access also. The entry-level NX4 offers both iSCSI and Fibre Channel block access, and hardware RAID levels 0, 1, 5 and 6. Its controllers can have up to 4GB of RAM and hot standby is offered for controller fail-over, or you can have two primary controllers with no fail-over.
NX3e hardware
What's coming is a new entry-level system, the NX3e, with one or two Storage Processors consisting of quad-core, 64-bit Xeons with 8GB RAM, four 1Gbit/s Ethernet ports for host connectivity, and a single 4Gbit/s FIbre Channel link to the back end drive tray. A base configuration contains up to fifteen 300GB, 15,000rpm Fibre Channel - not SAS - drives, or 1TB, 7,200rpm SATA drives. The maximum configuration is up to 30 drives.
The EMC docs we've seen don't use the term "X-Blade" for the storage processor, but that doesn't mean it isn't an X-Blade. This is a filer with iSCSI block access, not Fibre Channel, and with dual, active-active controllers with automated failover, and RAID Levels 5 and 6. The term "Hardware RAID" isn't used in the documents we've seen, by the way.
The Storage Processor Enclosure is a rack unit 5.15-inches high and the disk array enclosure is 15.75-inches high.
Software
The NX4 could go from installation to up-and-running in fifteen minutes according to EMC. This new NX3e has additional ease-of-use features to make it usable by people who are not storage system administrators. Specifically, provisioning is automated for MS Exchange, VMware data stores, shared folders and generic iSCSI volumes using what EMC calls "embedded best-practice engines" - think wizards.
The NX3e will provision Exchange storage based on the number of users and the size of their mailboxes. EMC claims Exchange can be set up in six easy steps, VMWare in seven steps and shared folders in eight.
The NX3e product includes RepliStor to create local snapshots and remote replicas for data protection. EMC also includes anti-virus, file-level retention, and Active Directory synchronisation with the product. The documents we have seen don't mention FAST automated tiering.
EMC says the NX3e provides storage for the IT generalist. We are intrigued by the name NX3e; why not just NX3? The "e" probably means "extended" or something like that. Naturally we have no pricing levels, other than the $10,000-$75,000 range.
We think EMC may announce the NX3e in early 2011. ®
Sponsored: Minds Mastering Machines - Call for papers now open