Samsung scents strong Android tablet sales
We'll sell 10m in a year, predicts exec
Watch out, Apple, Samsung wants your market share. The South Korean giant has forecast that its Galaxy Tab 7in Android tablet will account for a third of the slate market by this time next year.
To do so, Samsung expects to sell 10m of the things, the vast majority through network operators, company executive Hankil Yoon told the Wall Street Journal recently.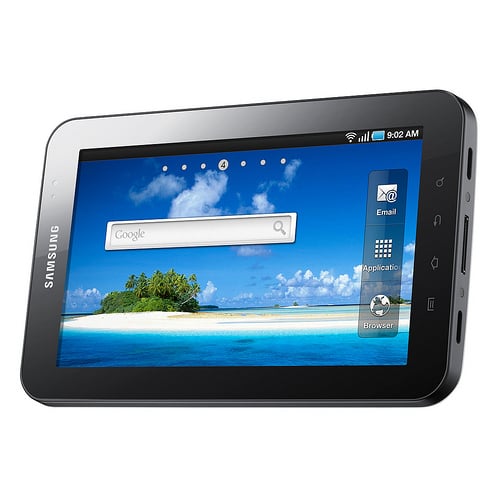 Vodafone has already committed itself to offering the device, but isn't saying yet for how much. According to Yoon, the Tab will be priced at between $200 (£130) and $300 (£194) in the US after operator subsidy.
He said it won't be sold there direct to punters. We can believe it, given the appearance of SIM-free pricing over here. At an average of £650 inc VAT over here, that's $855 in the US after removing the government's take out of the UK price.
$855 when the equivalent (16GB) iPad is $629. Both devices have Wi-Fi and 3G connectivity, and GPS location sensing on board, but the iPad has a 10in screen. Unlike the iPad, the Tab has a front-facing webcam.
Samsung's anticipated market share - to be reached in Q3 2011, said Yoon - follows claims that Apple's tablet market share will fall to 20-30 per cent, according to Acer chairman JT Wang - or to 60 per cent, if you believe market watcher iSuppli. ®
COMMENTS
Apad is a bit cheap and nasty though
I like the Apad at one level because it demonstrates what a ripoff the iPad is. Here is a fully functional Android tablet on sale than $100. Wholesalers can get them for $80 which is frankly an incredible bargain.
On the flip side, there is nothing to write home about the device. What it says to me though is that Samsung, Acer et al could easily produce extremely functional tablets in the $200-350 range and make a lot of money. I think if they jack their prices too high they're going to fail.
The real problem of course is...
I have a mobile phone that allows wi-fi tethering so I don't need a 3G tablet.
The default situation for the tablet will be using it at home or in the office through wi-fi. In most instances, out and about, I will prefer carrying my phone. In the case where I want to take my tablet with me, then all I need to do is tether it to my phone.
Samsung need to release a model without the 3G element.
Pricing issues
I can get a convertible notebook for just a little more than that, so these prices have the same problem as the iPad: not worth the money.
Get the price down to 300 or less with no contract: I don't want a giant phone.
a wee bit expensive considering.....
....that I've just bough a 7" tablet for my mother-in-law's birthday for £82.00 (including shipping from HK). It's called an aPad (also called a MID or M700003). Not the best tablet in the world but perfect for her.