O2 rolls out early-bird ticket app
Fast access to priority bookings
O2 has been tempting existing and potential customers with the carrot of early access to event bookings for some time. Now it's made getting hold of tickets easier.
Well, for iPhone owners at any rate, though the operator did promise today that Android and WebOS versions are in the pipeline.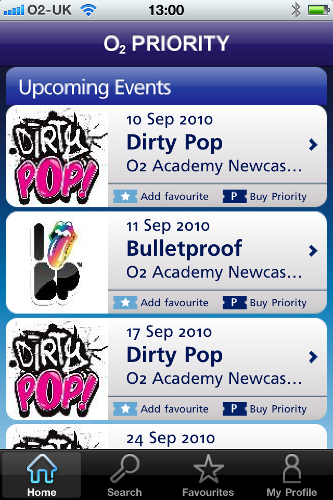 You need to register - enter your O2 number, an email addy and create a password - and, when you've received the activation code and keyed it in, you're ready to buy look up events and concerts, and buy tickets - up to 48 hours before they go on general release, if you're quick enough.
The only snag: purchases are routed through Ticketmaster which has the gall to charge £2.25 "delivery" just to email your tickets that you must print them out yourself. Oh, and there's a £2.31 "fee" to be added on to the price of the ticket too, cheeky monkeys.
You can download O2 Priority from the iTunes store here. ®
COMMENTS
Registration
Hi. Let me preface this by saying I work for O2. I just wanted to elaborate on the registration part in your story.
If you're an O2 customer connected to the mobile network when you first open the app, you won't have to enter your mobile number or go through the activation code step. We'll detect your mobile number automatically and save you the hassle - and we obviously know you're with O2.
We can't detect your mobile number if you're connected over wifi, or if you're on another mobile network. Hence you need to type your number in, and we will validate it by sending the activation code as a security measure.
Hope that helps.