Nokia Home Music HD-1
The Great Lost Jukebox turns up in captivity
Net Gain?
Now you may think, "three figures is a lot of cabbage for a radio that isn't even DAB, or stereo", which is reasonable. After a couple of months I considered it a solid upgrade to the kitchen DAB set, with better sound and much more versatility and choice. Net radio is just part of this equation.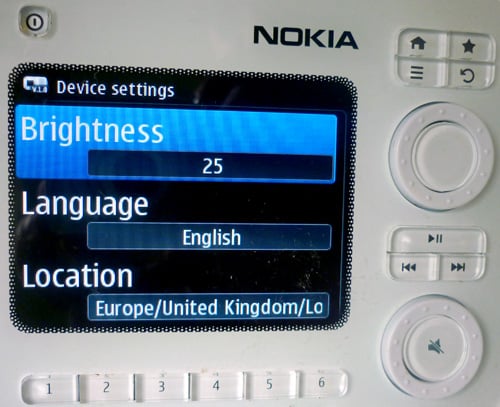 Versatile and yet surprisingly unsung
For example, WFMU now makes its amazing archives available for download on an iPhone, with its iPhone app. So the Aux lead got quite a lot of use. So did network streaming, once UPnP was set up. It blended old linear radio favourites such as world service with net radio. Once you've gone net radio, I figure, you can't ever really go back.
Verdict
Home Music is a great example of Nokia using its design expertise and consumer understanding, to come up with unexpected and interesting. It's versatile and easy to use, and reminds you of many things Nokia has historically been quite good at. But will there ever be a version 2.0? Version 1.0 was well hidden. According to one Nokia source, the machine was buried alive, with only a couple of hundred sold over the past 18 months. But it's available, and with a priced at £139, I reckon it's an absolute steal. ®
More Wireless Music Player Reviews...

Teac
R-4iDNT
Revo
Heritage
B & W
Zeppelin Mini
Logitech
Squeezebox
Radio
Sponsored: Are DLP and DTP still an issue?

Nokia Home Music HD-1
Versatile networked music player