Nokia Home Music HD-1
The Great Lost Jukebox turns up in captivity
Are You Receiving?
It's better news when it comes to linear radio. Radio is really the raison d'être of the device, and does a nice job of integrating FM analogue and Internet radio seamlessly. You merely need to press a station to add it to the favourites list. The box has a daunting built-in directory of net radio stations - with some curious popular omissions. I wasn't able to find WFMU in the list.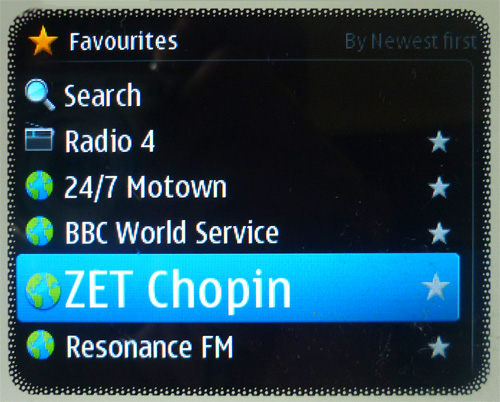 Radio favourites show both FM and Internet stations
When searching for podcasts or Internet radio stations, you can enter the address manually - Nokia here offers you an onscreen keyboard, laid out in Alphanumeric (rather than Qwerty) sequence. It's pretty tedious, but you shouldn't have to do it too often, in theory.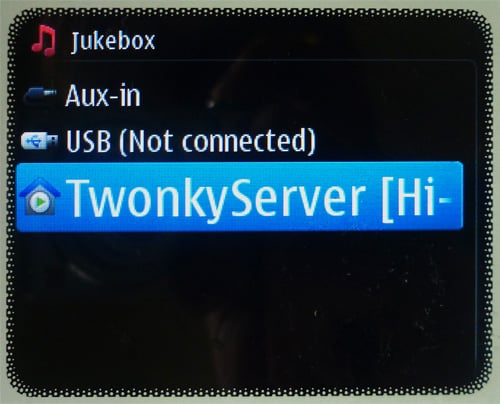 Accessing home media servers is snappy
In a nice touch, the device has a History list, so you can browse through the stations and podcasts you have listened to. This proved to be very useful.
External sources are lumped in the curious Jukebox top-level menu.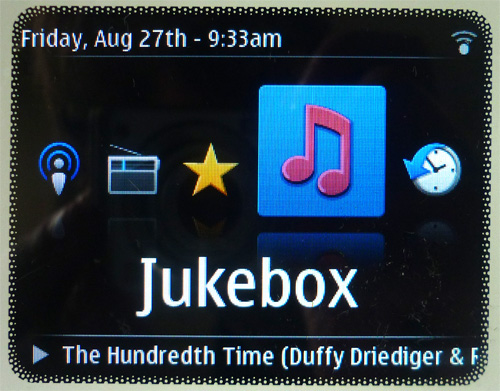 Jukebox provides access to Aux in, USB, and home media servers
As you might expect, Apple's iPhone isn't a supported USB device, and you'd be daft to expect Nokia to provide an iPod/iPhone dock. Still, an iPhone will happily pipe in sound from the Aux input. The box had no problem finding music shared through Windows Media Center over UPnP. It was more problematic on the Mac. NMH wouldn't work with Yazsoft's Playback and Allegro Media Server, but played very nicely with the Twonky Media Server.
Sponsored: Minds Mastering Machines - Call for papers now open