Nokia Home Music HD-1
The Great Lost Jukebox turns up in captivity
Review Best known today for its mobile phones, Nokia has released a connected jukebox at a knock down price. Nokia Home Music is an unusual beast: essentially it's a radio – primarily an Internet radio – built around a giant mono 10W speaker, but there's a Swiss Army knife selection of I/O options for getting music in and out of the box.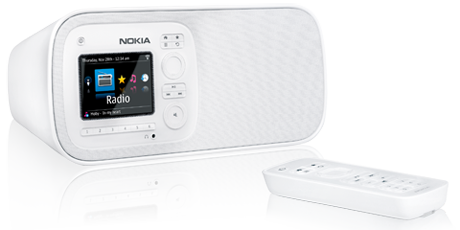 Nokia Home Music: the remote is smaller than the picture suggests.
Like the toy cow, Dougal, it's nearer the camera.
The Nokia Home Music HD-1 can pick up music from a domestic media server using UPnP, or from an attached USB device, or with its standard aux input. It can also play, but not store, podcasts. Unusually, for something in the iPhone speaker price bracket, it can compliment a home hi-fi system from its phono and optical S/PDIF ports. And it has a nice simple Nokia UI, so it looks and feels like a Nokia and should be familiar to anyone who has used a Nokia phone, without recourse to the manual.
So, this is an interesting and unusual piece of kit and you may be wondering why you haven't heard about it before. For the most unusual thing about Nokia Home Music is the curious story behind it. The device was first unveiled at Nokia World in September 2008, with staff at the low-profile booth predicting a launch late that year.
It debuted stateside at CES 2009 four months later, where it won some praise for its design and ambition. And then,… nothing. NHM has never been marketed. It was never sent to consumer magazines or newspapers for review. Dredging the oceans of the interweb brings up just one blog post.
I wasn't even sure where I could find this missing beastie, since it isn't listed under "Accessories" on the Nokia UK webstore. But Nokia UK dispatched one the next day. And here it is - for £135.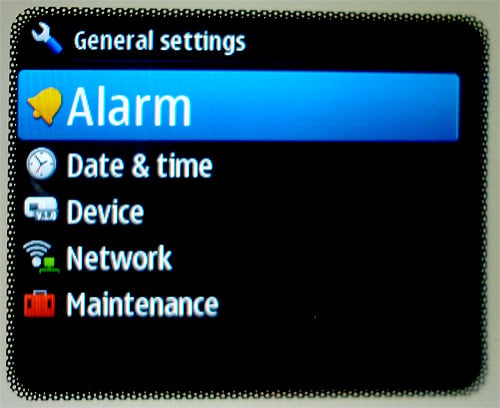 Configuring the device comprises of just five menus
So here, then, is Nokia's Great Lost Jukebox Thingy - in capitivity, and reviewed in the UK for the first time.
Sponsored: Minds Mastering Machines - Call for papers now open