Apple flooded by Japanese iPod battery swaps
Five thousand fixes in three weeks
In the three weeks following its offer to replace the batteries in overheating first-generation iPod nanos, Apple Japan swapped out a total of 4,994 suspect cells.
Apple made the offer in early August under pressure from the Japanese Ministry of Economy, Trade and Industry (METI), which had previously asked Apple for more information about 27 complaints it had received since 2008 about the devices, some of which had caused minor injuries.
In response to METI's request, Apple fessed up to an addition 34 incidents. METI characterized Apple's failure to report those cases earlier as "very regrettable."
In addition to prompting the replacement program, METI also suggested that Apple make replacement information easier to find on its website. You can fiind Apple's updated announcement here — or if your Japanese is a bit rusty, you can attempt to translate Google's translation.
The updated warning and METI publicity have worked wonders. During all of August, Apple replaced 5,527 batteries, a 2,280 per cent increase from the 232 it replaced in July. In June, it repaired a mere 62 potentially incendiary iPod nanos.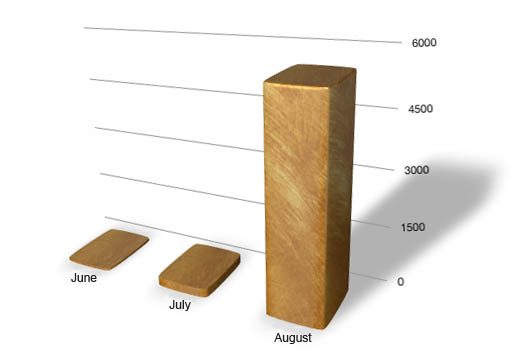 Recent iPod nano battery replacements — brought to you, appropriately, by Apple's Numbers spreadsheet
METI's product-safety alert cited two cases in which the iPod nanos had "scorched" a tatami mat and paper upon which the iPod was sitting. In both cases, the devices were being recharged.
In other cases, however, no recharging was involved — such as in mid-August, when a smokey iPod briefly shut down a Tokyo train.
According to METI, over 1.8 million suspect first-generation iPod nanos were sold in Japan from September 2005 to September 2006. Apple has blamed the problem on an unspecified battery supplier that may also be reponsible for the iPods that torched an American's trousers and smoked a Swede's Saab.
Of course, the three-month total of 5,281 battery replacements is a mere drop in a 1.8 million–iPod bucket, but we can't help but wonder how many of those four and five year old iPod nanos are in Japanese junk drawers after being replaced by newer, niftier models — and waiting quietly for their innocent owners to reactivate those potentially perilous power packs. ®
A tip of the hat to AppleInsider, which brought The Mainichi Daily News report of the battery-replacement jamboree to our attention.
Sponsored: Minds Mastering Machines - Call for papers now open